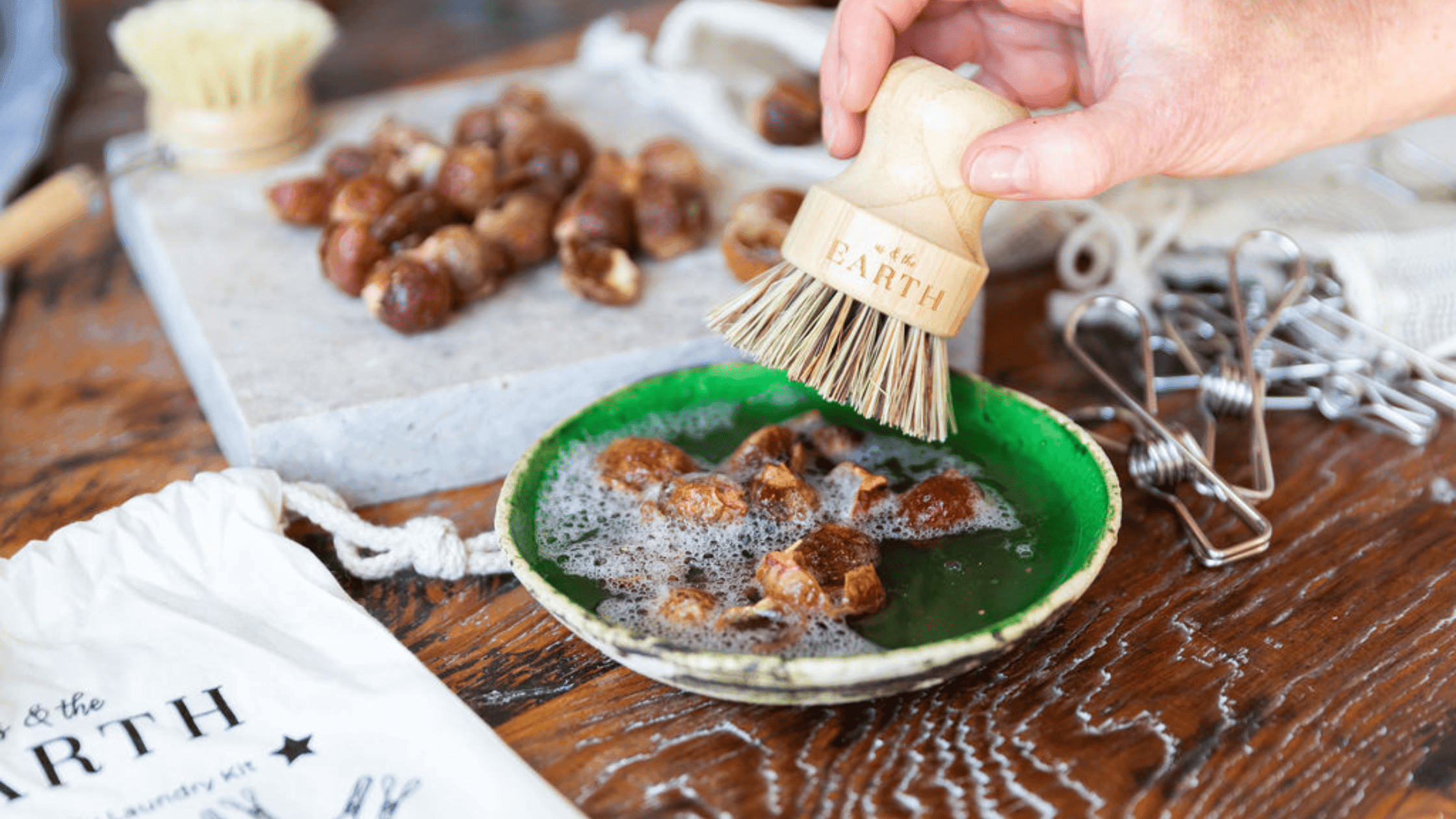 The Versatility of Natural Soap Nuts
There are so many ways you can use Natural Soap Nuts, also known as soap berries. Here are some easy DIY recipes you can try at home. They are 100% natural, chemical free and being a fruit, they just biodegrade after use.


SOAP NUT LIQUID CONCENTRATE
Fill a pot with 2 cups of water and place 4-6 crushed, deseeded natural soap nuts.

Bring it to a boil, turn down the flame and let it simmer for 20- 30 minutes.

Strain the liquid, let it cool, and pour the concentrate into a bottle. Don't throw away the soap nuts just yet as they can be dried and reused to make more soap liquid.

Keep in the fridge for up to a week
Now that we have our base concentrate, we can now use this to make different cleaning products.
SOAP NUT HAND WASH
1 cup of castille soap liquid

1 cup soap nut liquid concentrate
Mix ingredients well and store in a glass jar or a pump bottle. You may add 2/3 drops of essential oils of your favourite aroma. Keep in mind though that though soap nuts are naturally moisturising, adding in scents may cause dryness/damage to the skin.
SOAP NUT SHAVING CREAM
flesh from 15 soap nuts

1 tablespoon extra virgin olive oil

3 teaspoons soap nut liquid concentrate
Remove the hulls and any hard bits of the soap nuts. Put them into a blender and mix into a paste, gradually adding the olive oil and liquid concentrate. The end result is a paste that will start to foam. Use the mixture immediately.
All-Purpose Soap Nut Kitchen Cleaner
1 cup soap nut liquid concentrate

2 cups  water

2 tablespoons white vinegar

T

ea Tree essential oil (optional)
Combine all ingredients in a spray bottle and shake well. The mixture can be used to clean counters, tables, and other surfaces in the kitchen.
Natural Dishwashing Liquid
1 cup soap nut liquid concentrate

7-8 drops Tea Tree or Eucalyptus essential oil
Mix ingredients and store in a jar or a pump bottle. Shake it every time before use. Use it to wash dishes with a compostable sponge.
Soap Nut Shampoo
5-6 soap nuts

2 cups of water

2 drops of essential oils (optional, leave out if you have sensitive skin)
In a pan, add the soap nuts and 2 cups of water. Bring to a boil. Turn down the heat and let it simmer for 30 minutes. Leave the soap nuts in the water while you wait for the mixture to cool down. Pour a small amount onto wet hair and massage gently into your scalp hair. Leave for 5-6 minutes, then rinse carefully with lukewarm water.
This mixture can also be used to soothe and nourish dry skin for those suffering from eczema, psoriasis, and other skin conditions.
Dilute 1 part of soap nut liquid concentrate with 2 parts water. The mixture can be used as pet wash, natural pesticide for plants, mosquito repellent, and gentle body wash.
Natural Laundry Detergent
You can read all about how soap berries can be used in your laundry to completely reduce the toxins in your washing machine. What our clothes are washed in sits on our skin... the biggest organ of our body.
Read about this on our blog 'Soap Berries - A Natural Detergent'.
We would LOVE your comments and ideas as to other uses for these miracles from nature :-)