Zero Waste Kitchen Essentials Kit
This 'Zero Waste Kitchen Essentials Kit' is full of eco friendly kitchen products and food storage items. Designed to swap all of your toxic, single use plastic with reusable, zero waste items it is a must for all households. With such a strong importance on sustainability and being kinder to the world we live in, small changes can be made in the home and the kitchen is a great place to start!
The box is full of practical, versatile and easy to use solutions to store and purchase your food and then some nice additional products like a straw set and a charming crystal roller bottle for toxic free perfume. The box is beautifully designed and packaged using recycled materials and can be recycled once more once finished though the gorgeous box can be put to use again for other bits and pieces.
Be a Zero Waste Warrior with our reusable and environmentally and eco friendly kitchen supplies. You will never need plastic wrap again and will save a tonne of money by washing and reusing. You will be well on the road to having a plastic free eco-friendly kitchen!It is not only a gorgeous addition to your own home but also a wonderful gift and a conscious way to spread some eco love.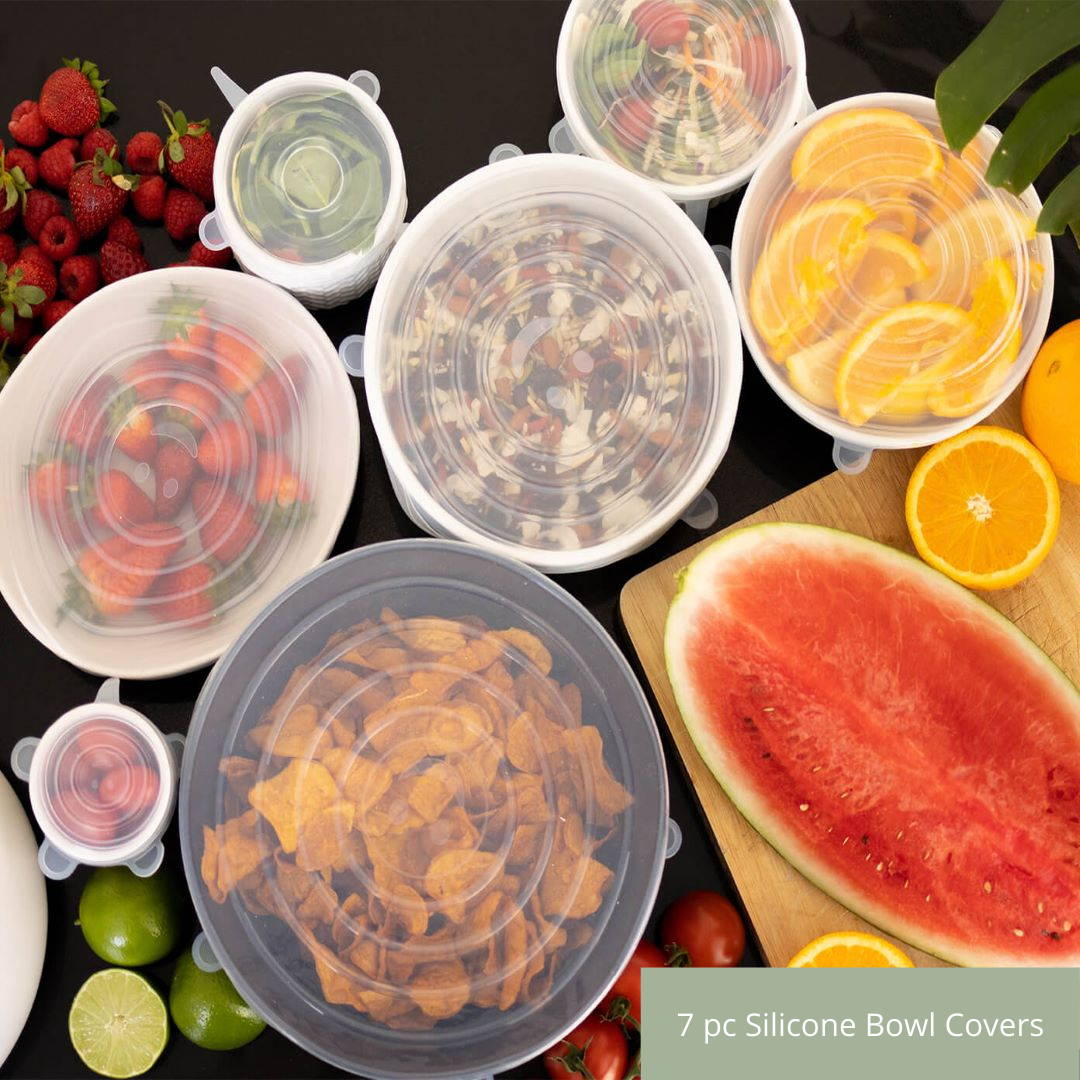 A set of 7, FDA approved, food grade silicone bowl covers in sizes from tin (for a can or glass) to XL for a salad bowl or saucepan

Made from 'silica' which is an abundant natural resource

Clear silicon making it easy to see what is inside

Super stretchy and even though circular can be used on odd shapes


Leakproof, creating a tight, vacuum seal which keeps food fresher longer


Stackable - you are able to stack bowls on top of each other


Suitable for use in the fridge, freezer, microwave and oven upto 200°C


Top-rack dishwasher safe or hand wash


Seal cut fruit and vegetables like avocado, apple, orange, onions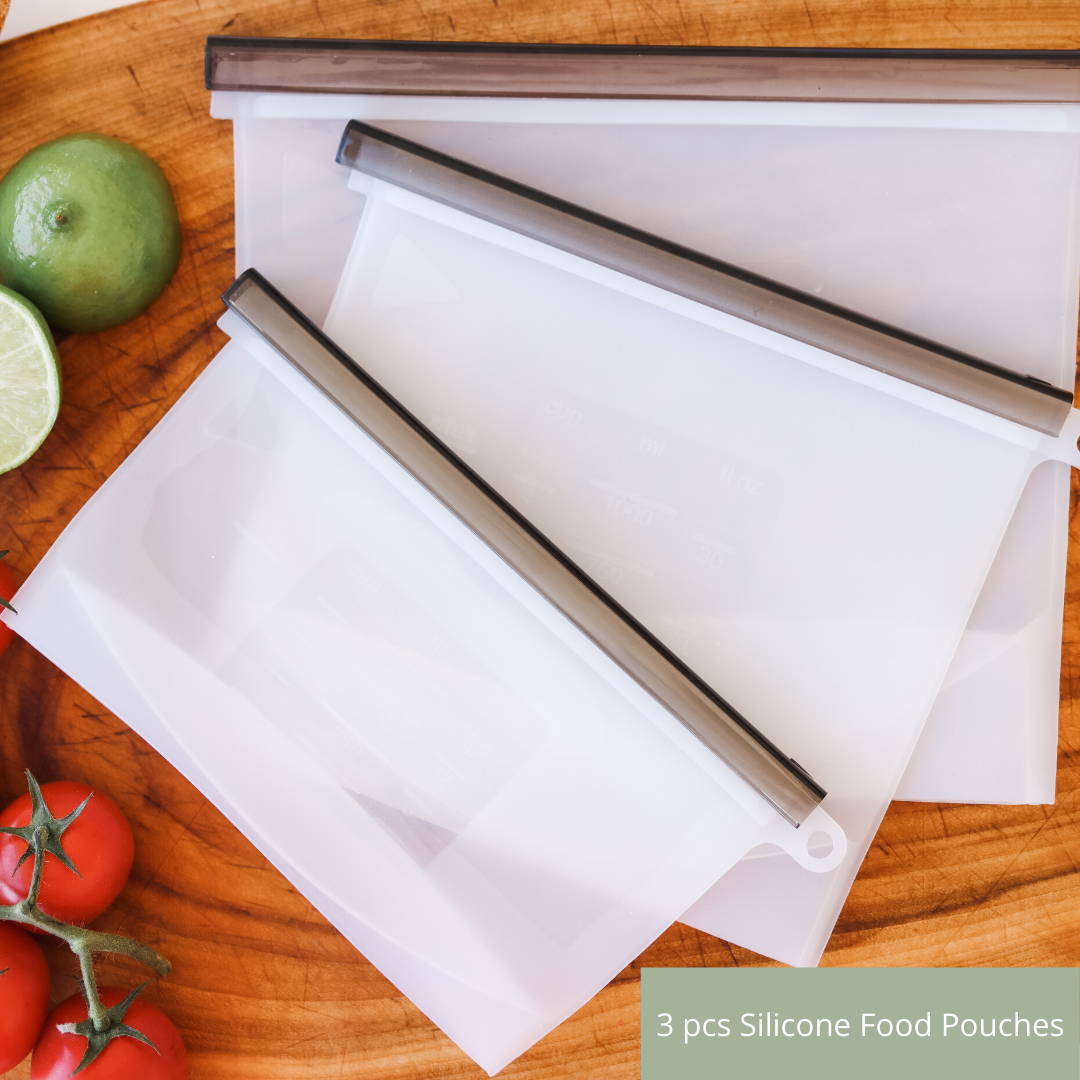 SILICON STAND UP, ZIPLOCK STORAGE POUCHES
A set of 3 FDA approved, food-grade stand up Silicon zip lock bags, a handy replacement for single-use plastic bags.

BPA free, Phthalate-free and PVC free

Small - 500 ml, Medium - 1000 ml, Large - 1500 ml


Perfect for food storage in the fridge, freezer or pantry

Impermeable, non-porous and leak proof


A fantastic solution for freezing extra produce when inexpensive and in season ( when we should be eating it!)


Marinate, season, storage single portions meals and soups


Buy bulk foods from your supermarket or deli by taking your pouches


Pre prepare your baby food or smoothies so they are ready when you are!


Transparent so you can easily see the contents


Soft and pliable and wonderful space savers, they are light and very transportable, handy for school and office lunches, snacks, picnics, road trips and travelling


Versatile as can be used for non-food items


Top rack dishwasher safe or hand wash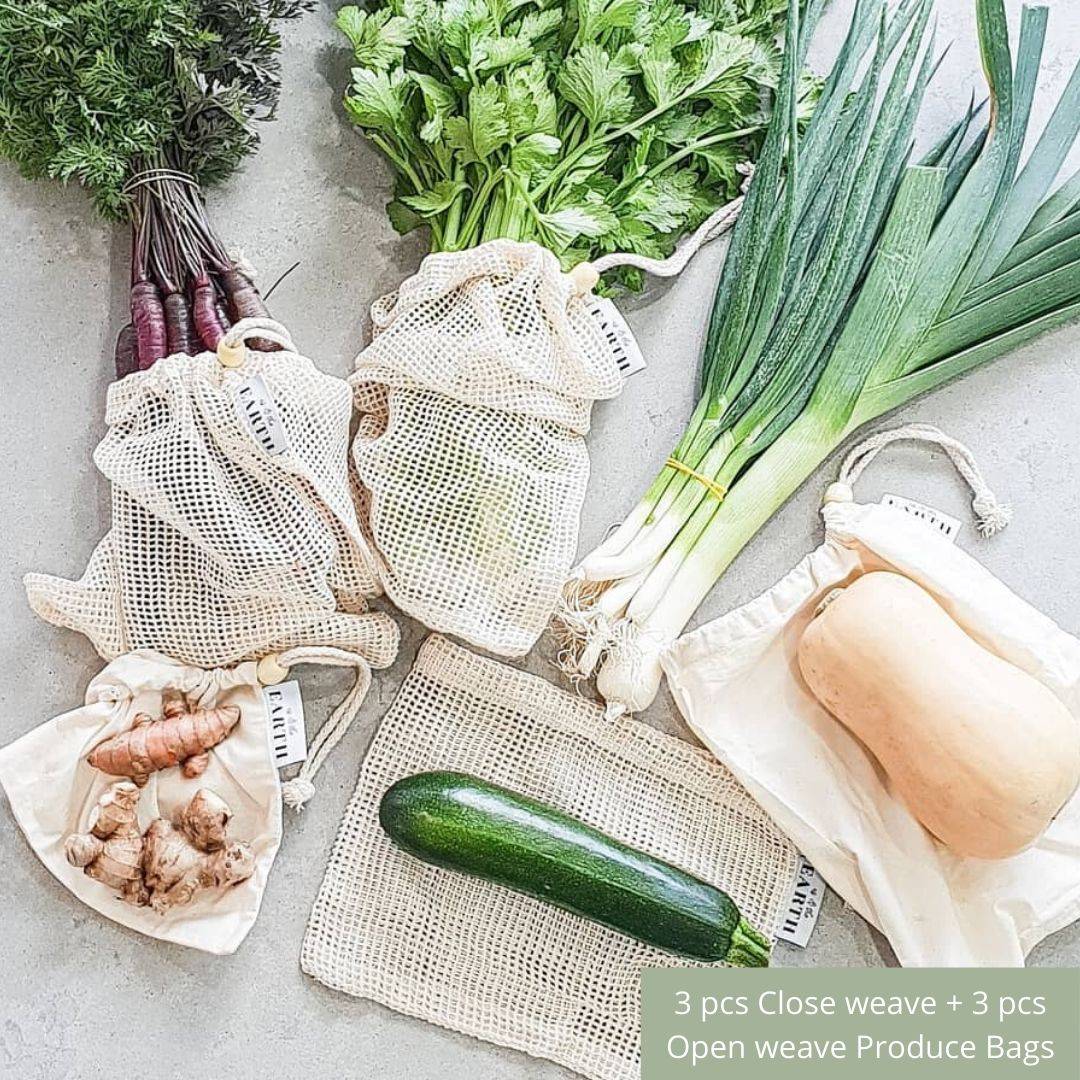 SET OF 6 x 100% 0RGANIC COTTON PRODUCE BAGS
3 open-weave cotton bags - Small ( 27 x 20 cms) Medium ( 26 x 33 cms) Large ( 25 x 43cms)

3 solid weave, cotton bags - Small ( 25 x 20 cms), Medium ( 28 x 30 cms), Large (30 x 40 cms)

'Us & the Earth' branding


The TARE weight is included in the tag so you can easily set the scale when purchasing


The mesh bags are wonderful for fruit, vegetables, herbs and baked goods, completely eliminating the need for plastic.

The solid weave bags are perfect for any smaller items as they are secure and won't escape!

Both styles produce bags have a drawstring closure with a wooden toggle that seals tightly, preventing anything from escaping

Ideal for non-food items, storage of undergarments, toiletries, useful for travelling, school and the office

Compostable as 100% organic cotton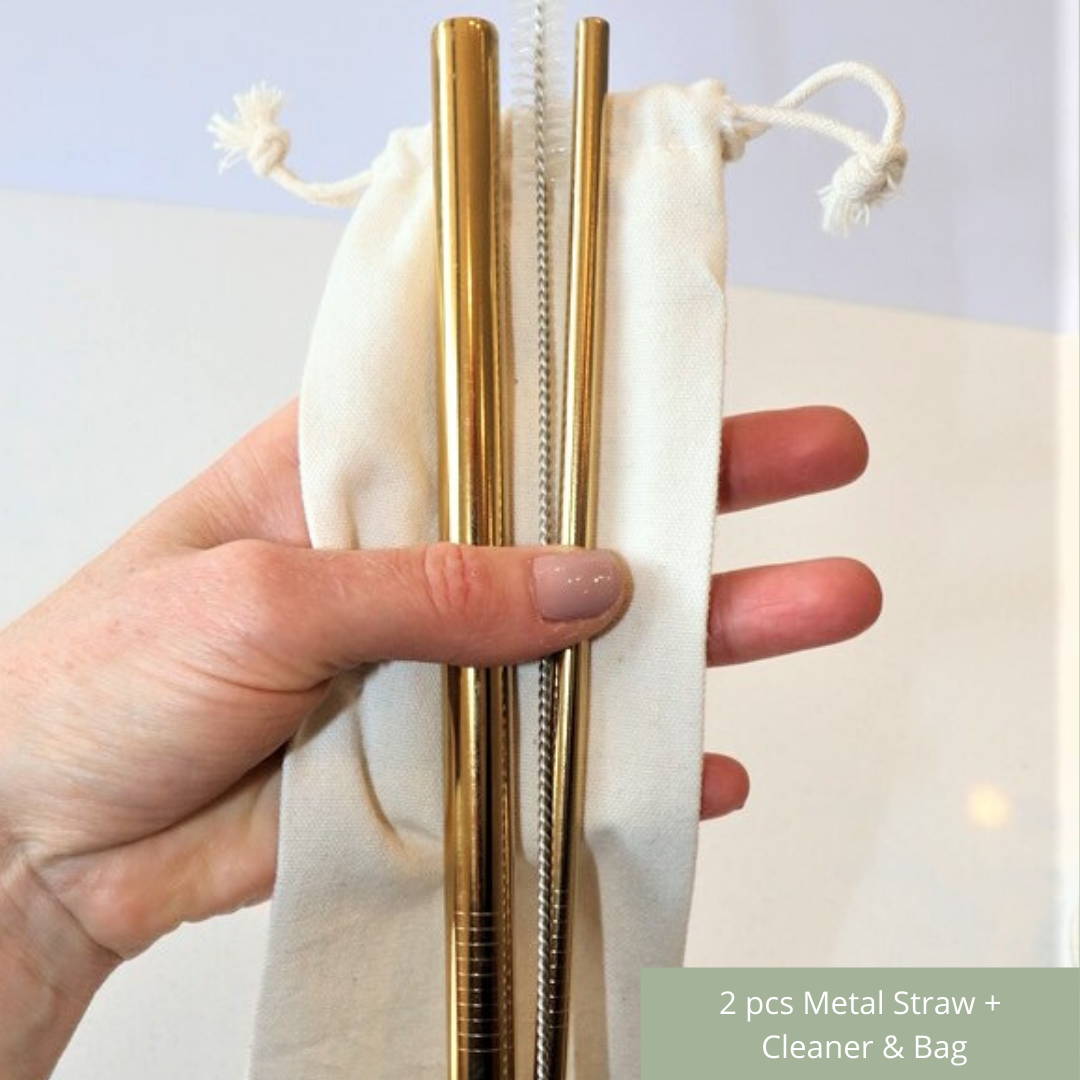 Lightweight and made from high-quality food grade 304 stainless steel

Contains 2 straws, one thin for standard drinks and the other thicker, ideal for smoothies and shakes

A straw cleaner is included and the set is presented in a cotton bag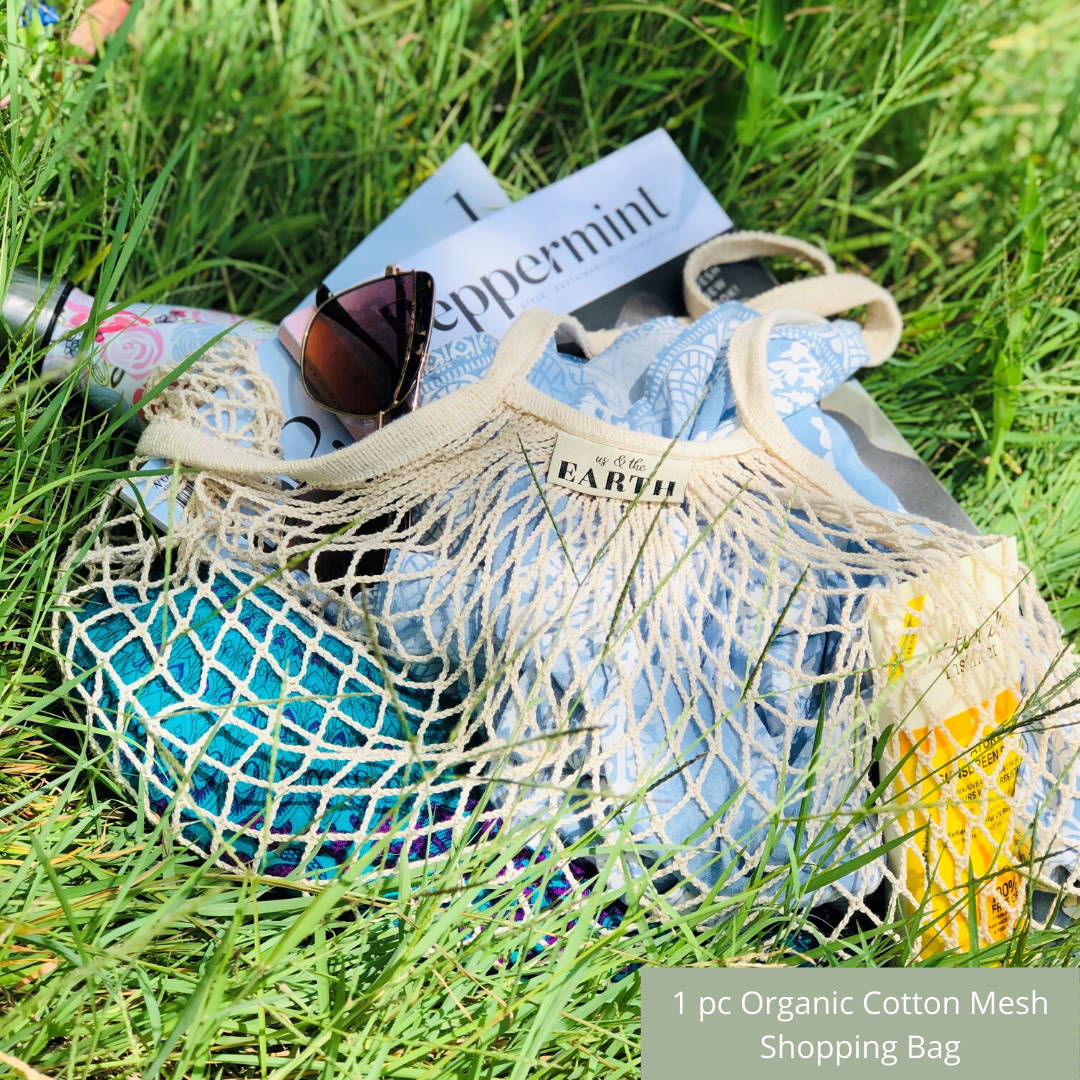 100% ORGANIC COTTON MESH SHOPPING BAG
Market day, gym, picnic, shopping, beach - a plastic-free, eco-friendly, handy lightweight tote for everyday use.

Lightweight, easy to roll it up and keep it in your pocket, glovebox or handbag as a reserve for shopping or any extras you need to cart around

Expandable and strong, they can carry a HUGE amount of produce


Compostable as it's 100% cotton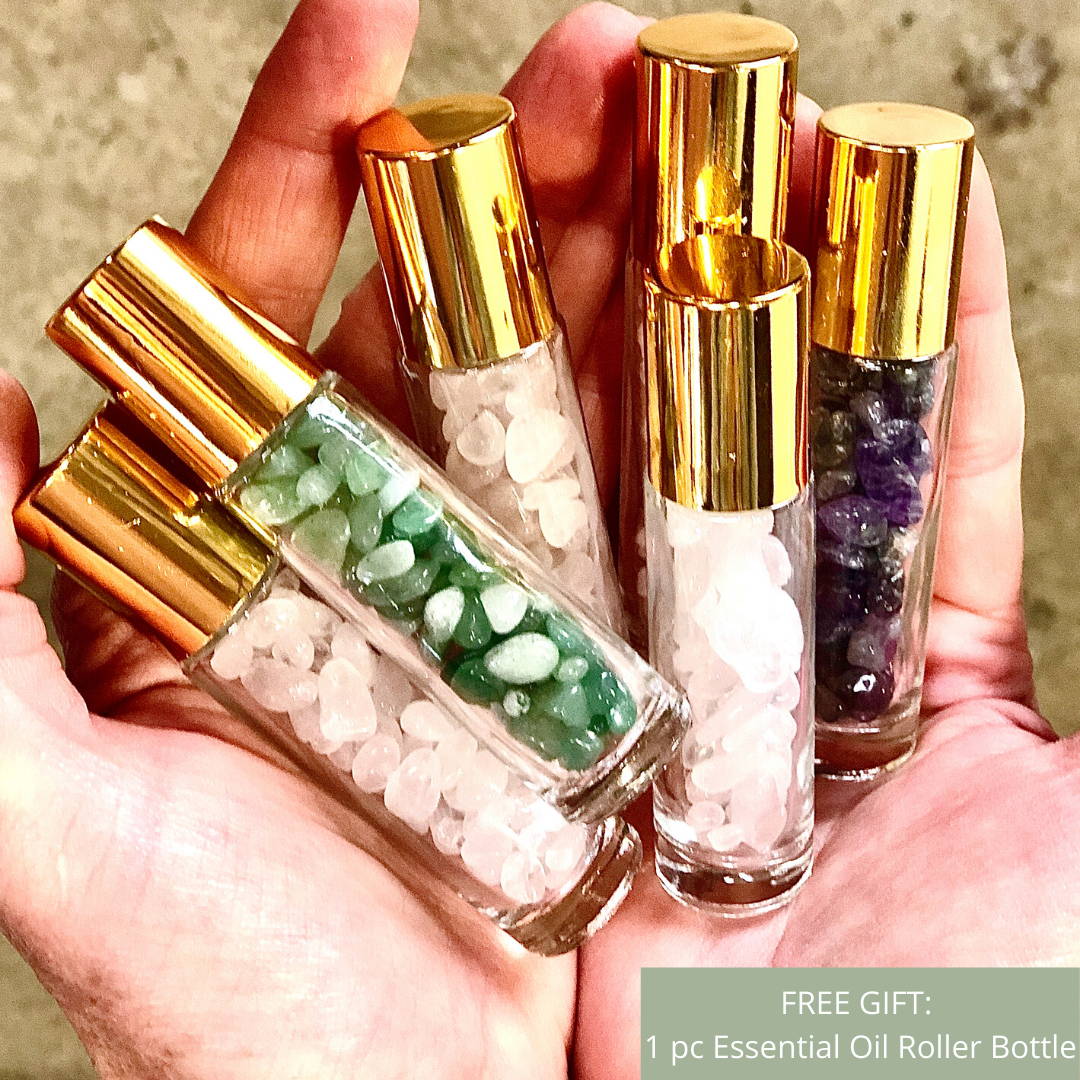 FREE GIFT !!! - A CRYSTAL ROLLER BOTTLE FOR ESSENTIAL OILS
1 Roller ball Bottle of 10 mL capacity

Made from high-grade borosilicate glass

Crystals are either Rose Quartz, Amethyst or Jade Adventurine

Pop off the lid, add your perfume or essential oils and apply to skin by rolling gently

An amazing gift for a friend or relative who also understand also understands
the importance of eliminating single-use plastics.
Love it all
The Kitchen Essentials kit is brilliant. I used the big bag to shop, then put washed veg and fruit in small bags, and silicone lids turned all plates and bowls into containers. So handy and easy to use. Thank you! (Oh and essential oil roller with jade was a treat) Great products.
Love them
I love my products ,it makes me feel wonderful knowing i never have to use plastic bags again, knowing im doing my part to help the environment is great.
Great gift idea
I purchased this for myself and I love it! It is also a great gift for anyone who is keen to go plastic free. Thank you for this awesome pack !
Customer Service
This was a present for a friend so can only comment that she loves it
I was really happy with the whole shopping experience from purchase to delivery - Luz was thoughtful, prompt to reply and follow up - no hesitation recommending
Great quality products with lots of size selection. Well presented if giving as a gift 🎁