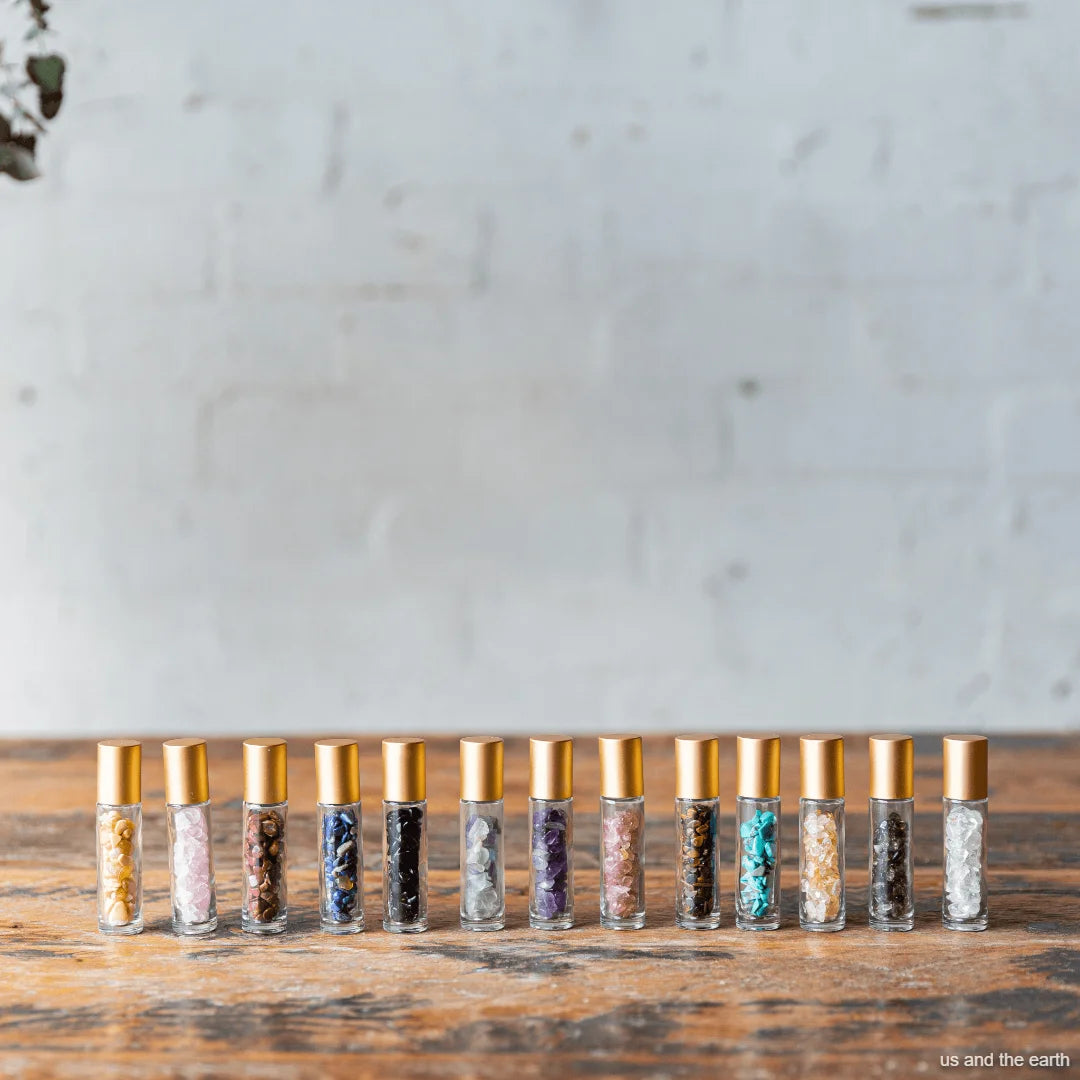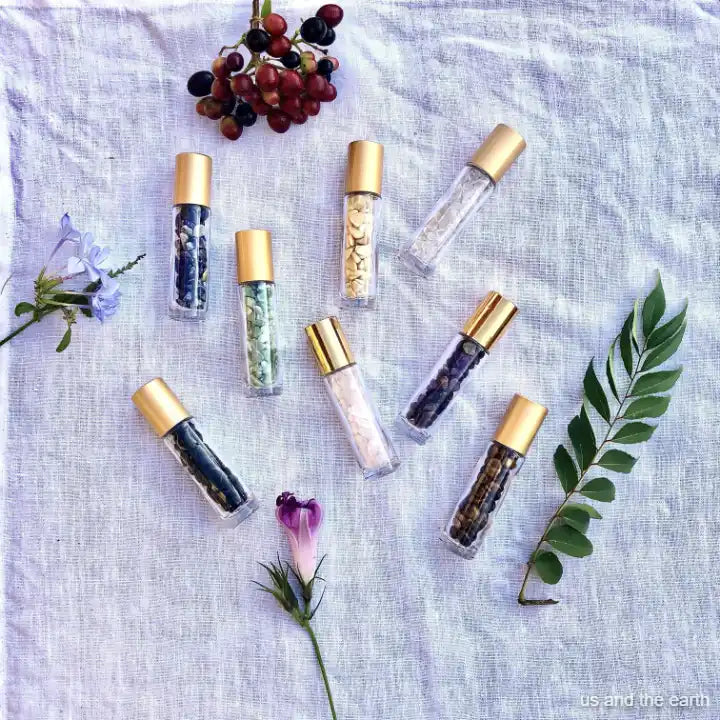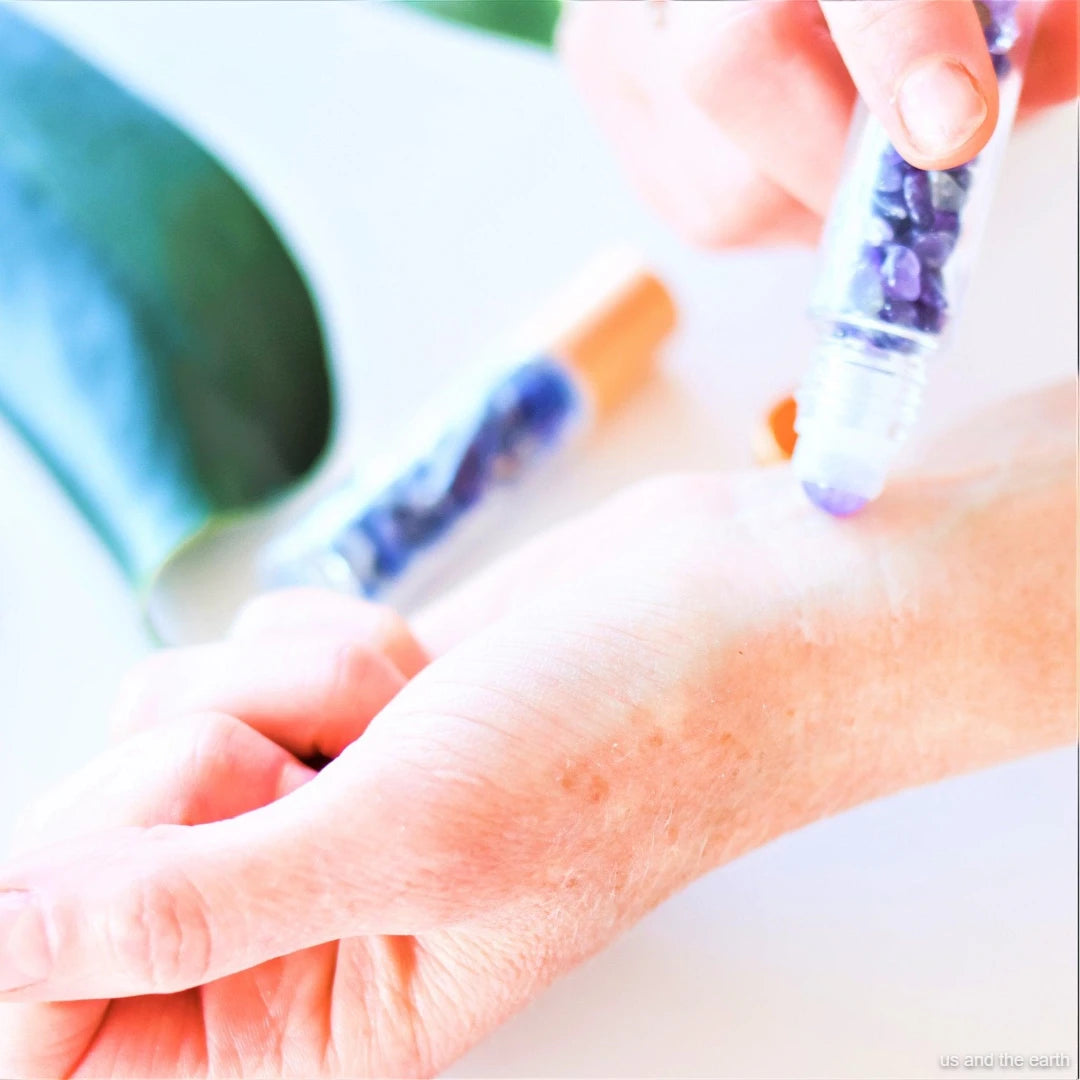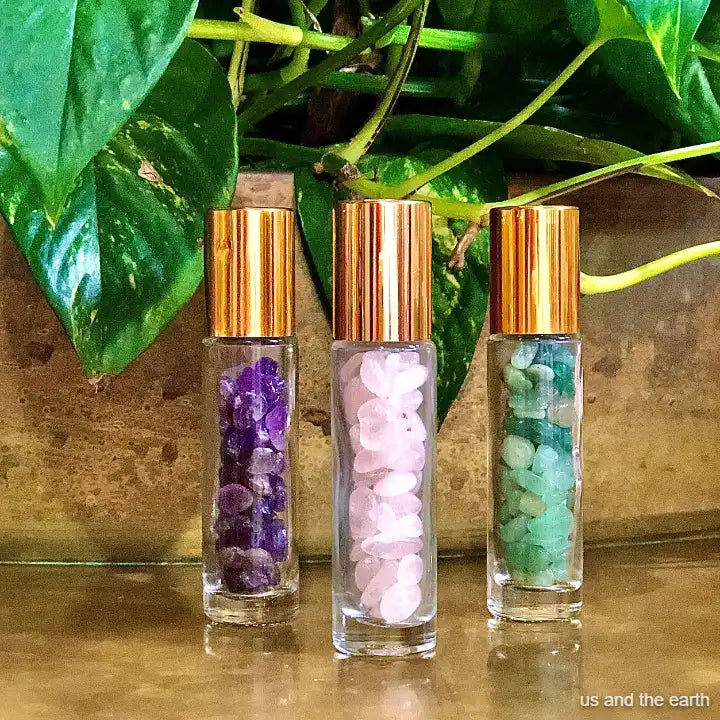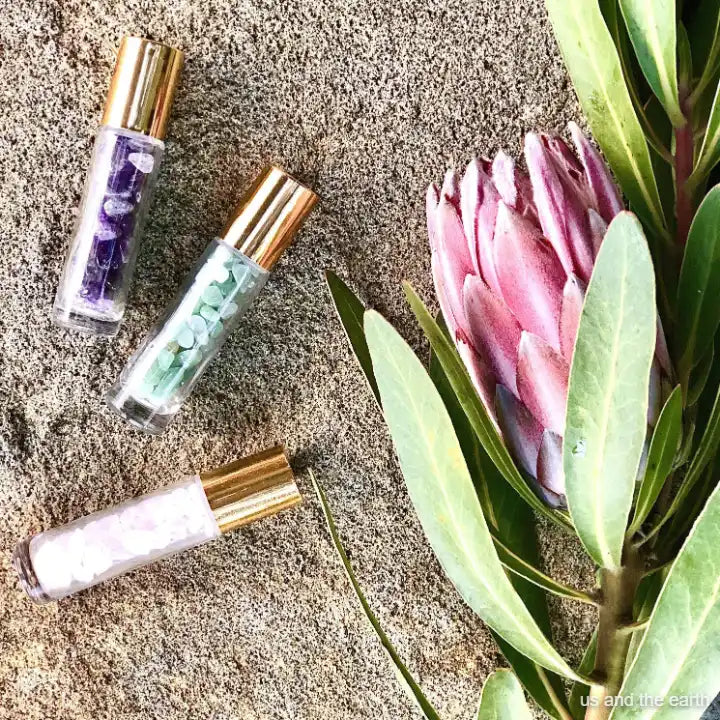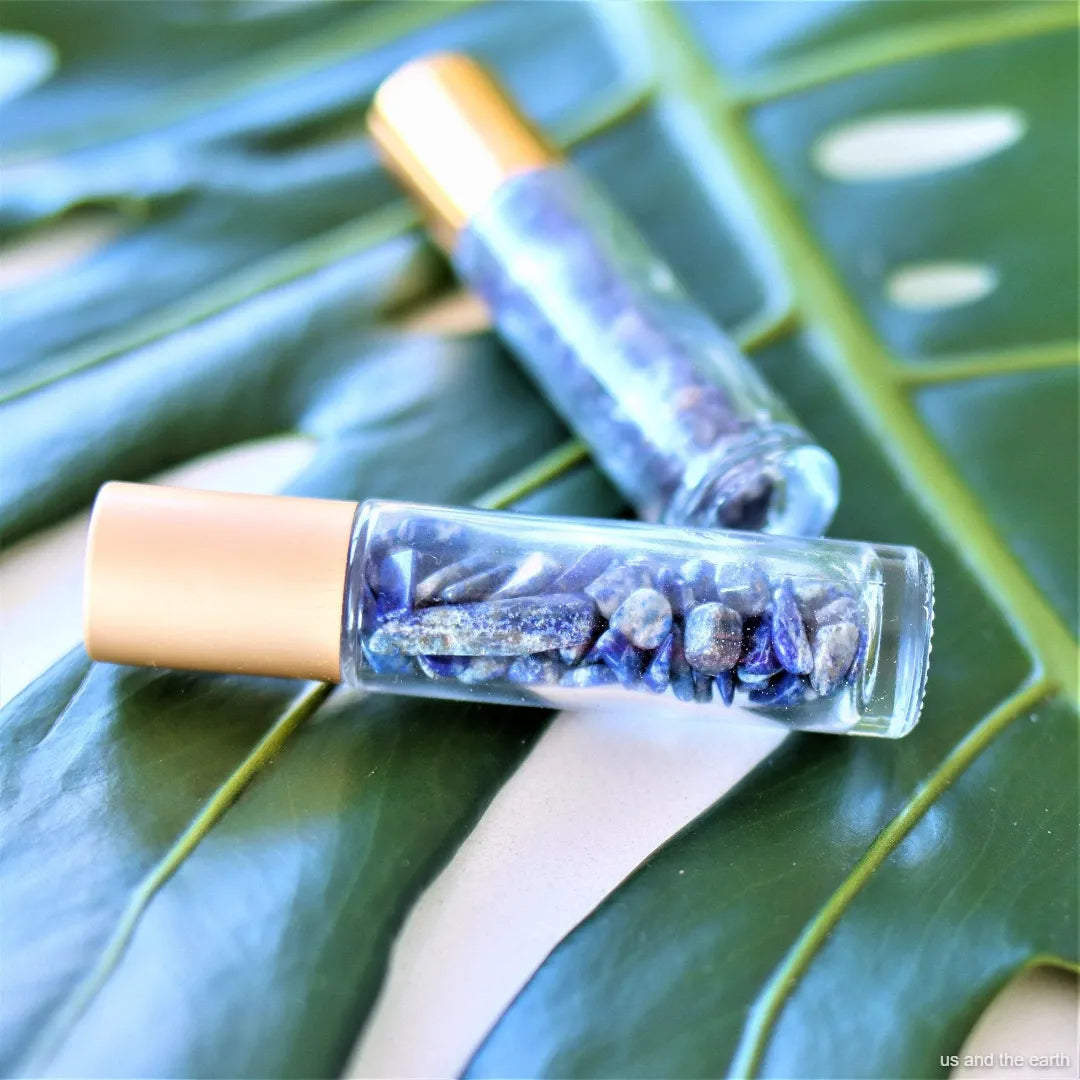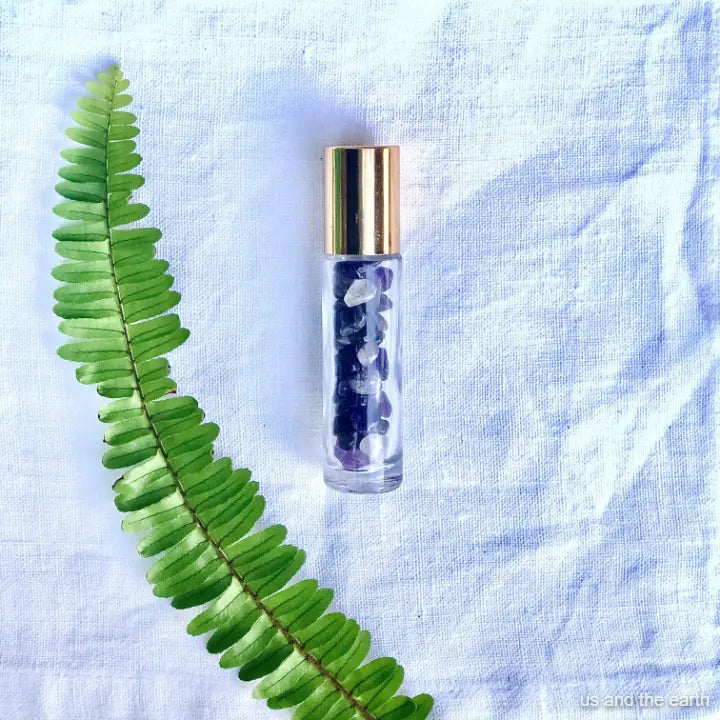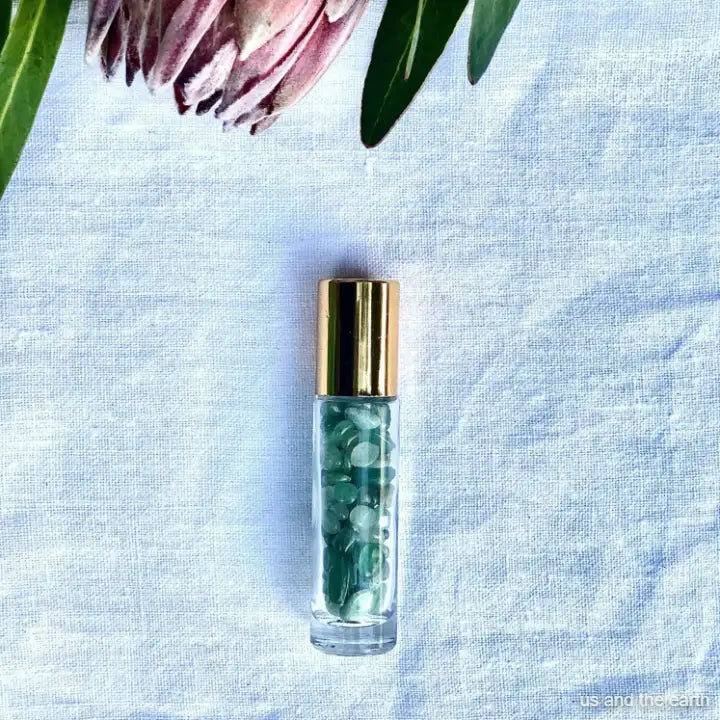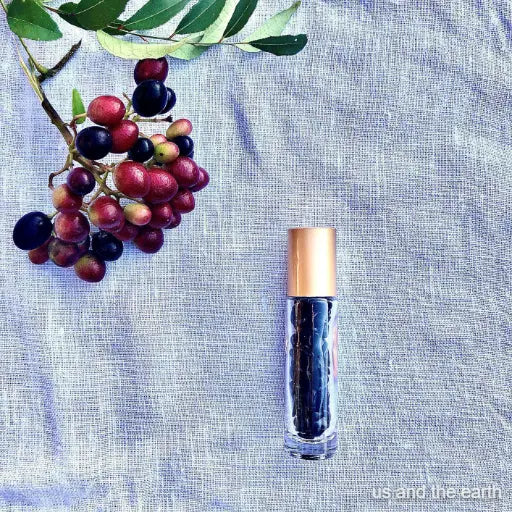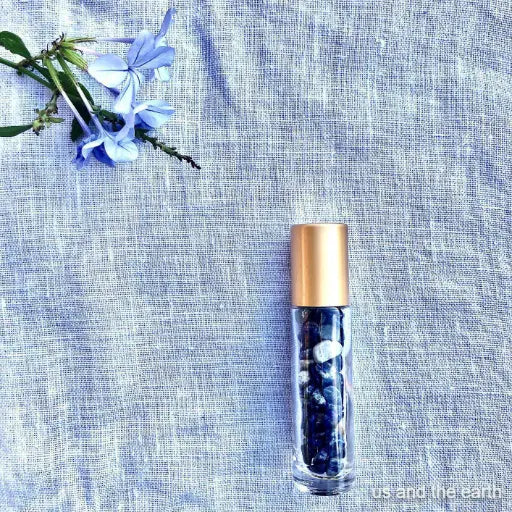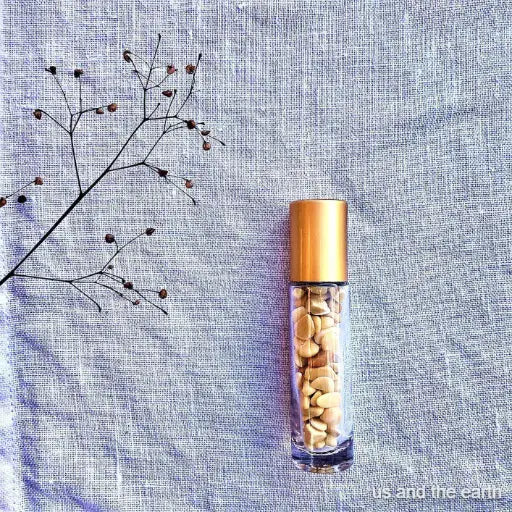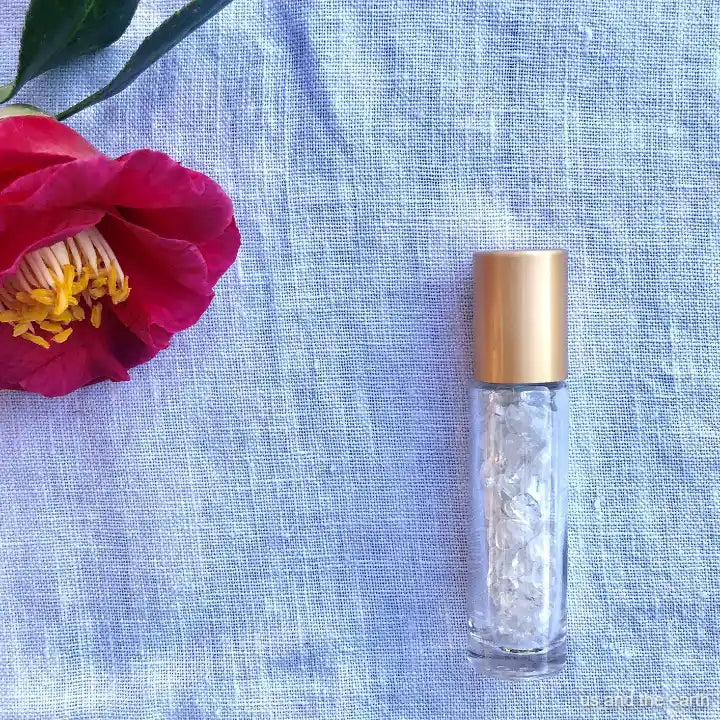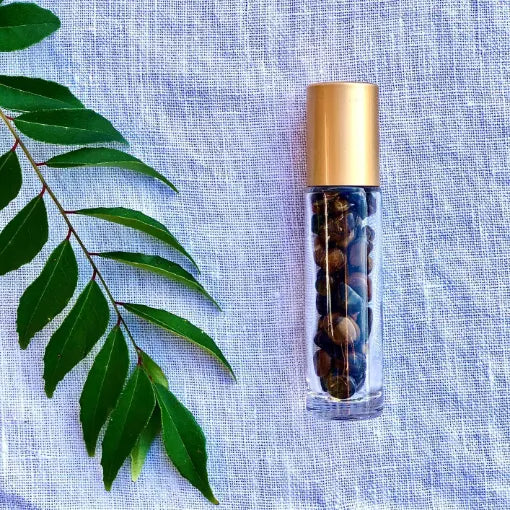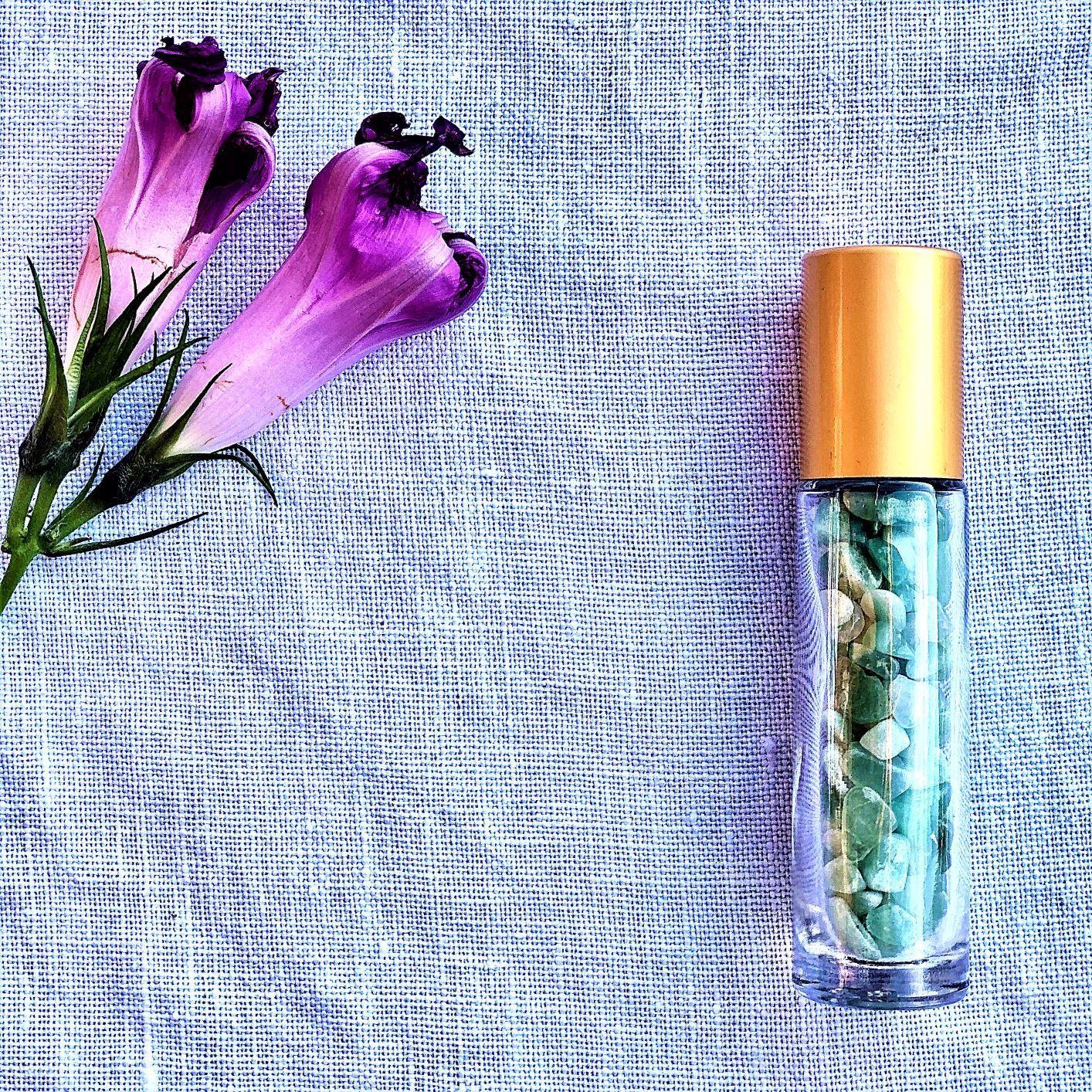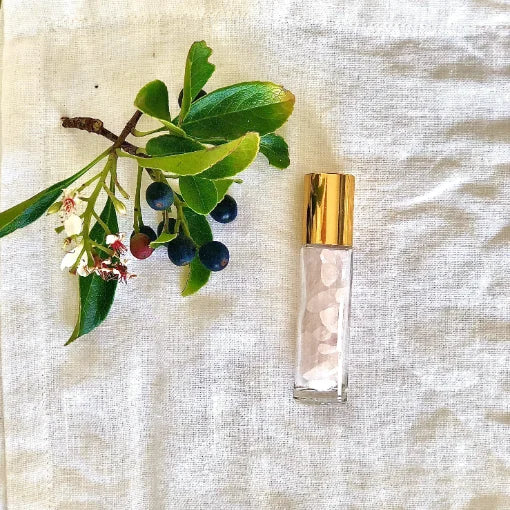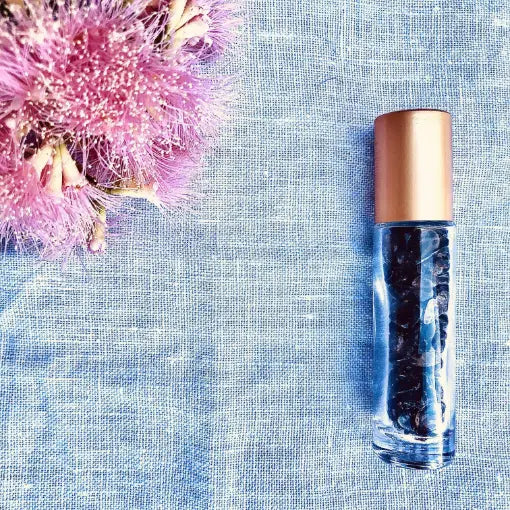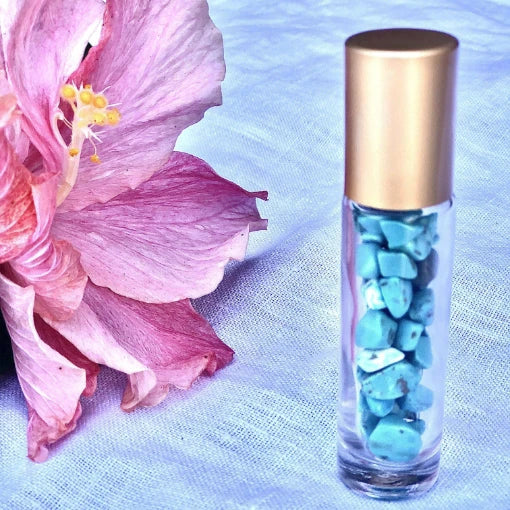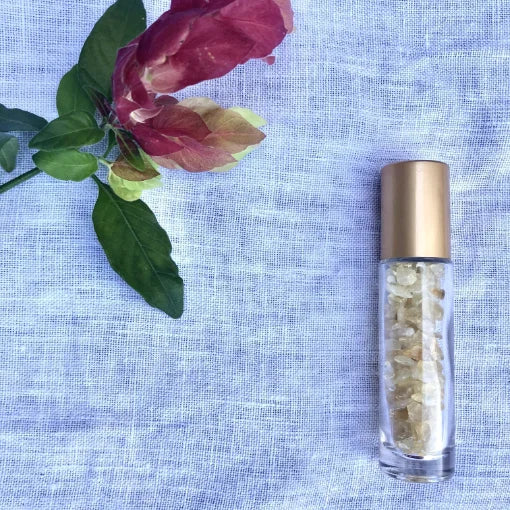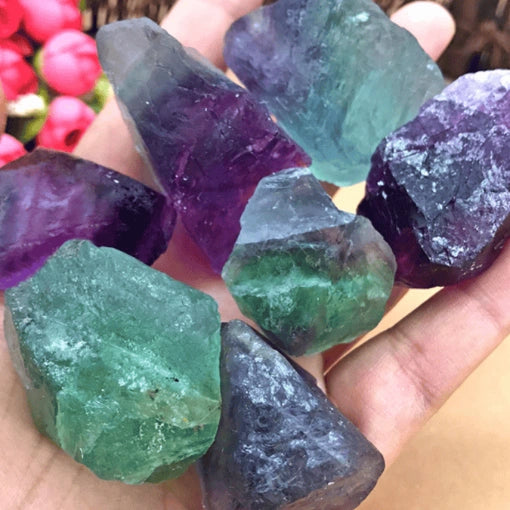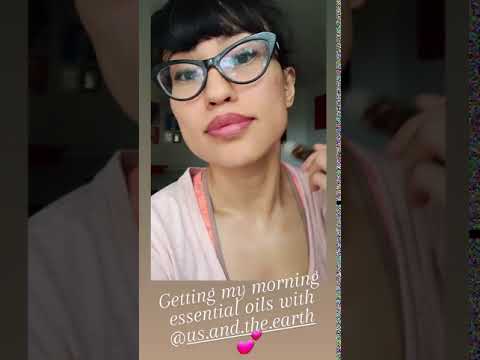 "These are gorgeous! Ordered Turquoise since it's my birthstone and tried out some of the oil blend recos. Loving Blend #2!" -Judy
Essential Oil Crystal Gemstone Roller Bottle
Sale price

$13.00 AUD
Regular price
(/)
BUY 8 and get 1 FREE: Add 9 to cart and use code ROLLER8 at checkout
Elevate your aromatherapy experience with our stunning crystal roller bottles, the perfect fusion of elegance and utility for an Eco-Friendly Lifestyle. These 10mL gemstone roller bottles are designed for the modern enthusiast, allowing you to craft your own unique fragrances using essential oils. Please note that these bottles come empty, serving as a blank canvas for your creativity.
Our roller bottles are more than just perfume containers; they symbolize a holistic approach to well-being. As you apply your custom blends, you not only enjoy the delightful scents but also absorb the soothing energy of the crystal within. Whether you seek tranquility, rejuvenation, or balance, these bottles are your faithful companions, fitting effortlessly into your daily routine. Embrace the magic of crystal-infused essential oils and experience a new dimension of aromatic bliss with our crystal roller bottles. Your aromatic adventure awaits!
Please Note: These bottles contain ONLY natural crystal gems
tones, and do NOT contain any essential oils or perfume. Add your own oil blend or perfume by following the instructions below. Each purchase is for ONE bottle only, as described above.

Unlike conventional perfumes, essential oil crystal bottles are toxic-free and have been used therapeutically for thousands of years. They are made up of microscopic, lipid-soluble molecules that are harvested from the highest quality plants and are so concentrated that you only need a small amount to enjoy the results. Applied topically they can penetrate through the cell membranes and travel throughout the body very quickly. Inhaled, the molecules travel to the lungs and also interact with both the brain and respiratory system.
Amethyst is known for its unique purple coloration and can be used to help with your confidence, balance, and protection. Lovely to use before sleep or meditation.

Rose Quartz speaks to love and romance. It helps soothe negative emotions opens your heart chakra to increase compassion and stimulates self-love, Increasing trust and helping to move forward.

Yellow Jade is known as the dream stone. Can be used to have the courage to discover your divine inner truth and full potential, It is one of the luck crystals that bring prosperity to you.
Tiger's Eye is said to represent Power and Independence and helps to rid your mind of anxiety, fear, and self-doubt, guiding you to harmony and balance and helping you to make conscious decisions.
Blue Lapis is the stone of wisdom, intuition, and truth and resonates with the vibration of truth and enlightenment. Said to open the third eye and stimulate the pineal gland.
Clear Quartz is said to be the 'Master Healer'. Clearing both mind and body amplifies energy by storing, releasing, and regulating it. Aids concentration and memory.
Black Obsidian - An intensely protective stone, obsidian is said to help form a shield against physical and emotional negativity, ridding emotional blockages and enhancing self-compassion.
Strawberry Quartz enhances the sense of personal importance that will enable you to withstand any obstacles being thrown at you in your everyday life. Let the universe adore you!
Citrine will help bring joy, wonder, and enthusiasm to all parts of your life and encourage warmth, optimism, motivation, and clarity.
Smokey Quartz neutralizes negative energy and assists you in letting go of old, stale patterns that may be holding you back, leaving space for more positive energy to enter.
Turquoise is seen as a good luck charm that can help balance your emotions while finding your spiritual ground. When it comes to the body, it's said to benefit the immune system, respiratory, and skeletal systems.
Flourite is said to represent extraterrestrial wisdom and increase your intuitive abilities, deepening your connection to the Spirit.
Carnelion is known as an artist's stone, and the crystal has stunning hues of orange and red, it's vibrant and warm, said to boost creative, true expression and energy. If you need a boost to your self-esteem, confidence in work, or courage, or if your life has lost excitement and passion, then this is the stone for you.
Essential Oil Blend Suggestion - These are for fragrances but you can use Essential Oils for so many other uses, headaches, nausea, sleep.. the list goes on and soon I will have more info on my website.
Idea #1 - 8d Frankincense, 8d Clary Sage, 5d Grapefruit, 5d Lemon, 5d Wild Orange, 5d Bergamot & Carrier Oil
Idea #2 - 20d Sweet Orange, 15d Ylang-Ylang, 10d Cedarwood OR Sandalwood, Carrier Oil
Idea #3 - 3d Rose, 2d Jasmine, 4d Neroli, 6d Bergamot, 5d Coriander, Carrier Oil
Idea #4 -2d Rosemary, 3d Peppermint, 5d Cedarwood, 10d Sweet Orange, Carrier Oil

Roll on as often as you like and safe for the entire family, though please check on the strength before rolling or diffusing near infants.
To use your bottle: Remove the roller ball lid. Add up to 10 drops of various oils of your choice, then fill to the top with a carrier oil. You can use fractionated coconut oil, apricot kernel oil, grape seed, jojoba or sweet almond oil. Make sure that the roller ball it re-fitted snuggly.
I am not at the stage in my business to use pretty 'Us and The Earth' branded boxes. A good portion of mine came from the stash I collect behind my local 'Kidstuff' or the supermarket. I have also been known to stop my neighbours on their way to the recycling bin with boxes. That's just how I roll.

The jewels are on the inside and packed with so much love!! And just in case you are wondering - any bubble wrap used is all recycled too. 

I recycle. I reuse. when I can


Carbon Neutral Parcel Delivery

The process of delivering a parcel emits carbon dioxide into the atmosphere, which is shown  to harm our environment.   

We are using Australia Post and Sendle for our shipping delivery




Plastic-free Packaging that turns into fertiliser

I also use Hero Packaging for smaller products that don't need a box

 

HERE IS WHY I LOVE THEM...

 Firstly Anaita and Vik are cool people. They are doing good and Anaita, who I know personally, is a power-house when it comes to supporting ecommerce brands, especially those female-led ones. 
'Heropacks', which is what I use, are made from home-compostable materials, mainly cornstarch and PBAT.
They take 90-120 days in your home compost to break down. NOTE: note, these can't be placed in the recycling bin
This biodegradable polymer breaks down in soil and doesn't leave any toxic residues behind.
Minimising carbon emissions — The process behind manufacturing compostable mailers requires less energy and resources in comparison to plastic packaging materials.
I love supporting HERO PACKAGING, an Australian-owned company with similar goals to help loads of businesses to reduce their carbon footprint and educate as to how we can make impactful changes to reduce plastic pollution.




WHAT ARE THEY MADE FROM?

 Unlike traditional shipping mailers, these are NOT made from single use plastic. Our mailers are made from 30% plant-based materials such as PLA and 70% from a certified compostable material called PBAT (a synthetic bonding agent).

ANOTHER COOL TIP - YOU CAN REUSE THEM AGAIN

There are 2 sticky strips, so when you receive the mailer, you can cut along the line on the flap and re-use it with the second adhesive (glue) strip. HERO mailers are one of the only ones in the world that have a reusable strip!

HOW DO YOU COMPOST THE MAILERS?

To compost them at home, it's best to remove any labels ( unless they too are compostable), cut them up and place them in your compost bin. These will completely break down within 90-120 days in a home-compostable environment - sometimes even sooner! 
AUSTRALIA WIDE SHIPPING

Orders are shipped Monday-Friday within 1-2 business days of being placed, often same day, if ordered by 2pm. As I am a small business with school pickups and family stuff I can't always guarantee same day ( but I will try!!) 

Deliveries to addresses outside of Australian city metro areas (150km+) may take slightly longer to arrive. On average, you can expect an extra 2-5 business days.

All orders under $80 will be shipped at a $10 Flat Rate

Orders over $80 will be shipped FREE of charge

Orders over $150 will be shipped Express Post - FREE of charge

SHIPPING TO OTHER COUNTRIES 

We can ship anywhere in the world and this is calculated at the checkout cart based on location, weight & size of the package. If you would like a quote, please email info@usandtheearth.com and we will calculate this for you.

ORDER CONFIRMATION

As soon as you place your order you will receive an order confirmation e-mail to confirm receipt. We will ship your order out within 1-2 business days after receiving it and we will then email you your shipment tracking number so you can easily keep a close eye on when your new item(s) will be with you. 

CUSTOMS, DUTIES & TAXES

We are not responsible for any customs and taxes applied to your order. All fees imposed during or after shipping are the responsibility of the customer (tariffs, taxes, etc). International orders may incur an import tax.

RETURNS, REFUNDS & EXCHANGES - you have 30 days !

If you aren't happy then return it. If for any reason you do not absolutely love your eco goodies, we will gladly issue a refund for the value of the merchandise or exchange your items within 30 days of purchase.

To be eligible for a return or exchange, your item must be unused and in the same condition that you received it and in the original packaging. Gift Vouchers are not be eligible for a return.

WHAT TO DO

Please notify us in writing via email to info@usandtheearth.com including your order number or a copy of your receipt.

You will be responsible for paying for your own shipping costs for returning your item. Original shipping costs are unfortunately non-refundable and will be deducted from your refund.
If you are shipping an item over AU$50/US$35, you should consider using a trackable shipping service or purchasing shipping insurance. We don't & can't guarantee that we will receive your returned item.
Once goods are received and the refund approved, 

your refund will be processed, and a credit will automatically be applied to your credit card or original method of payment, within 48 hrs.

I am sure that you will adore your products but understand that things happen in life and sometimes we just don't like what we ordered!

No worries, we are here to support you whatever you decide.😀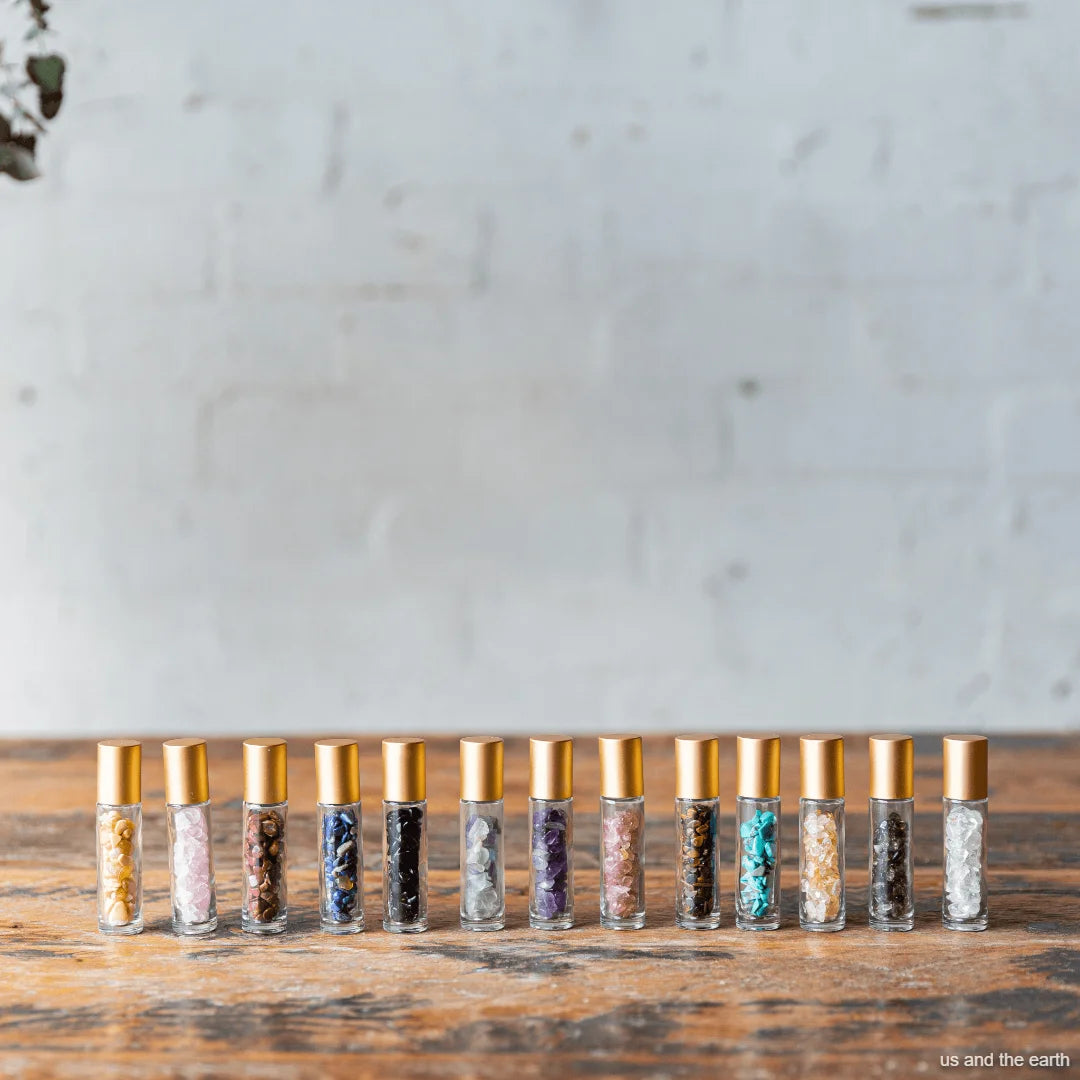 Essential Oil Crystal Gemstone Roller Bottle
Sale price

$13.00 AUD
Regular price
Choose options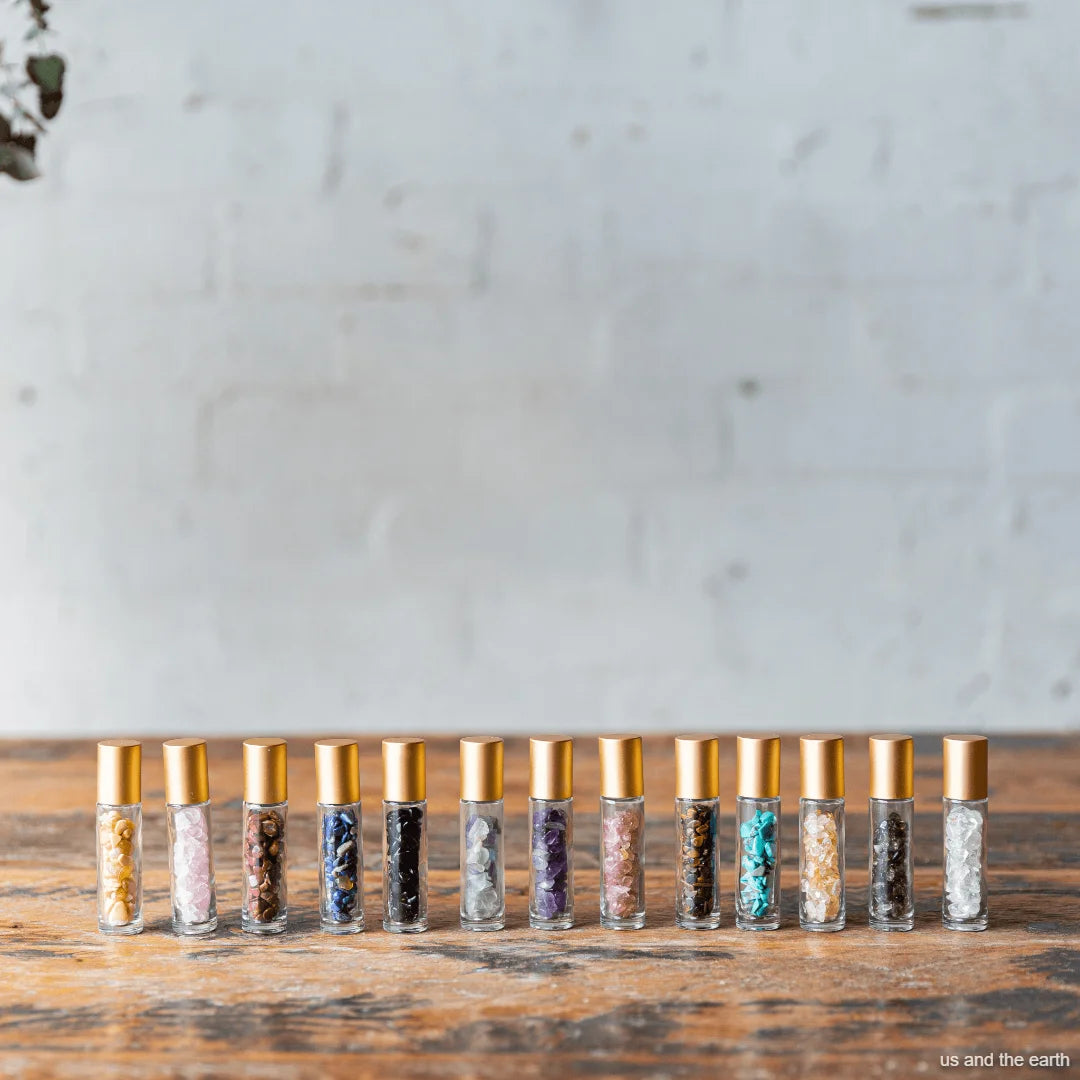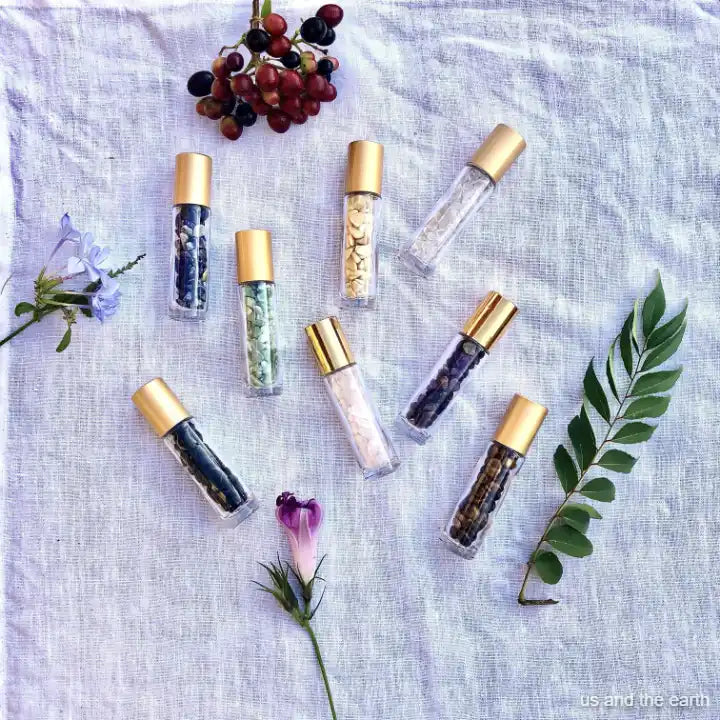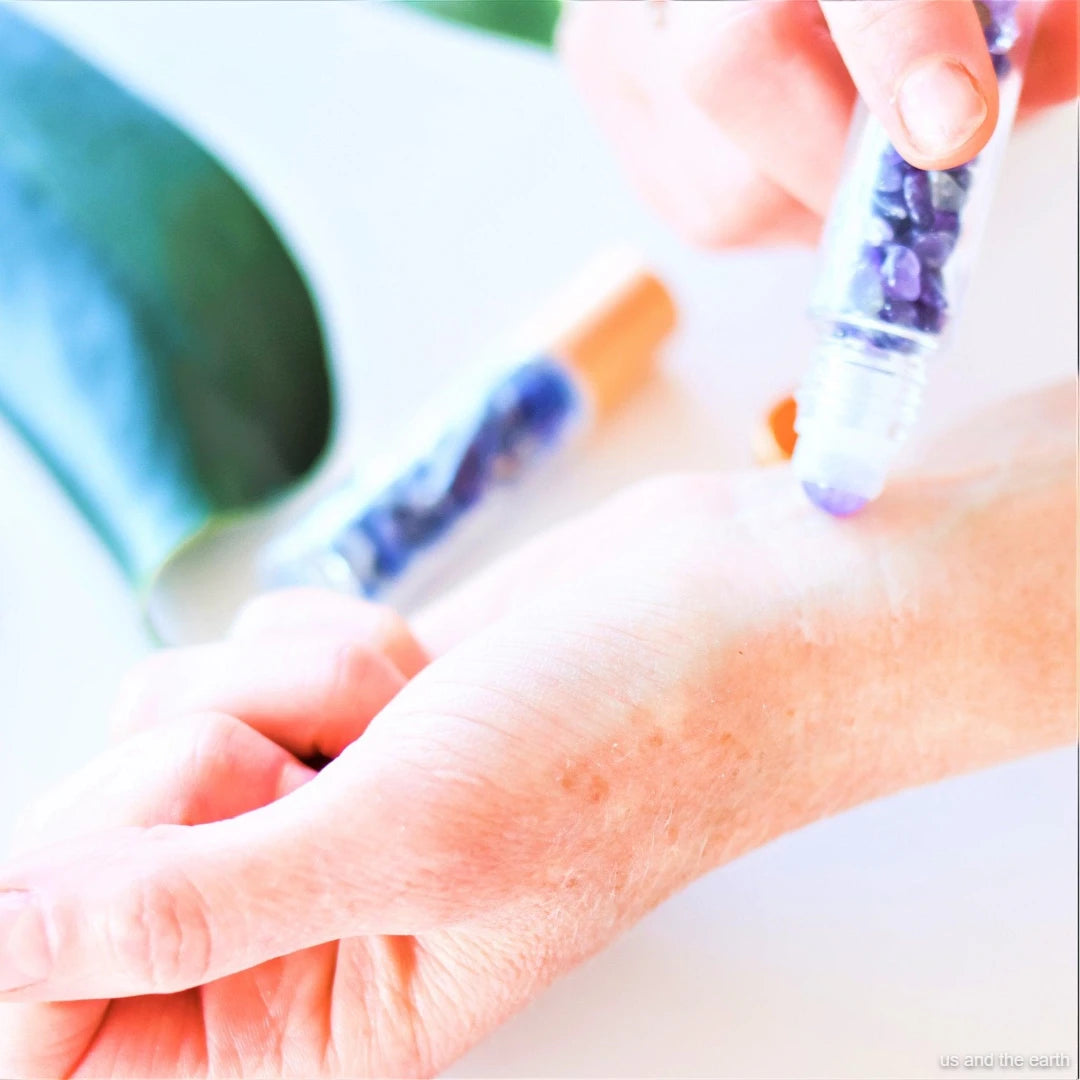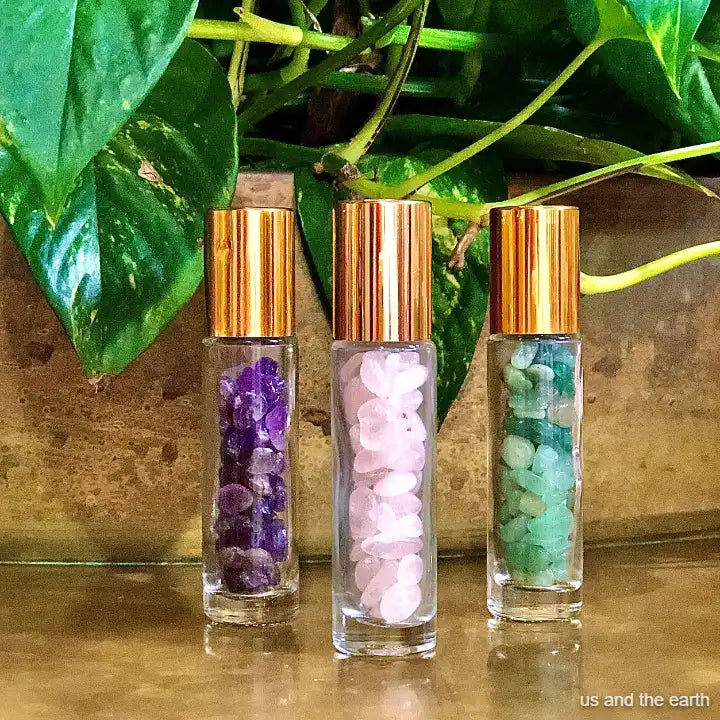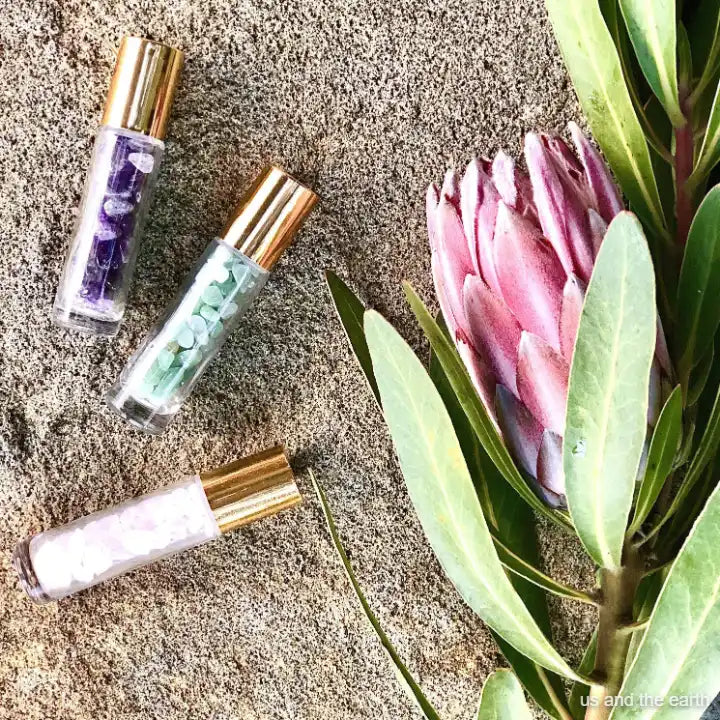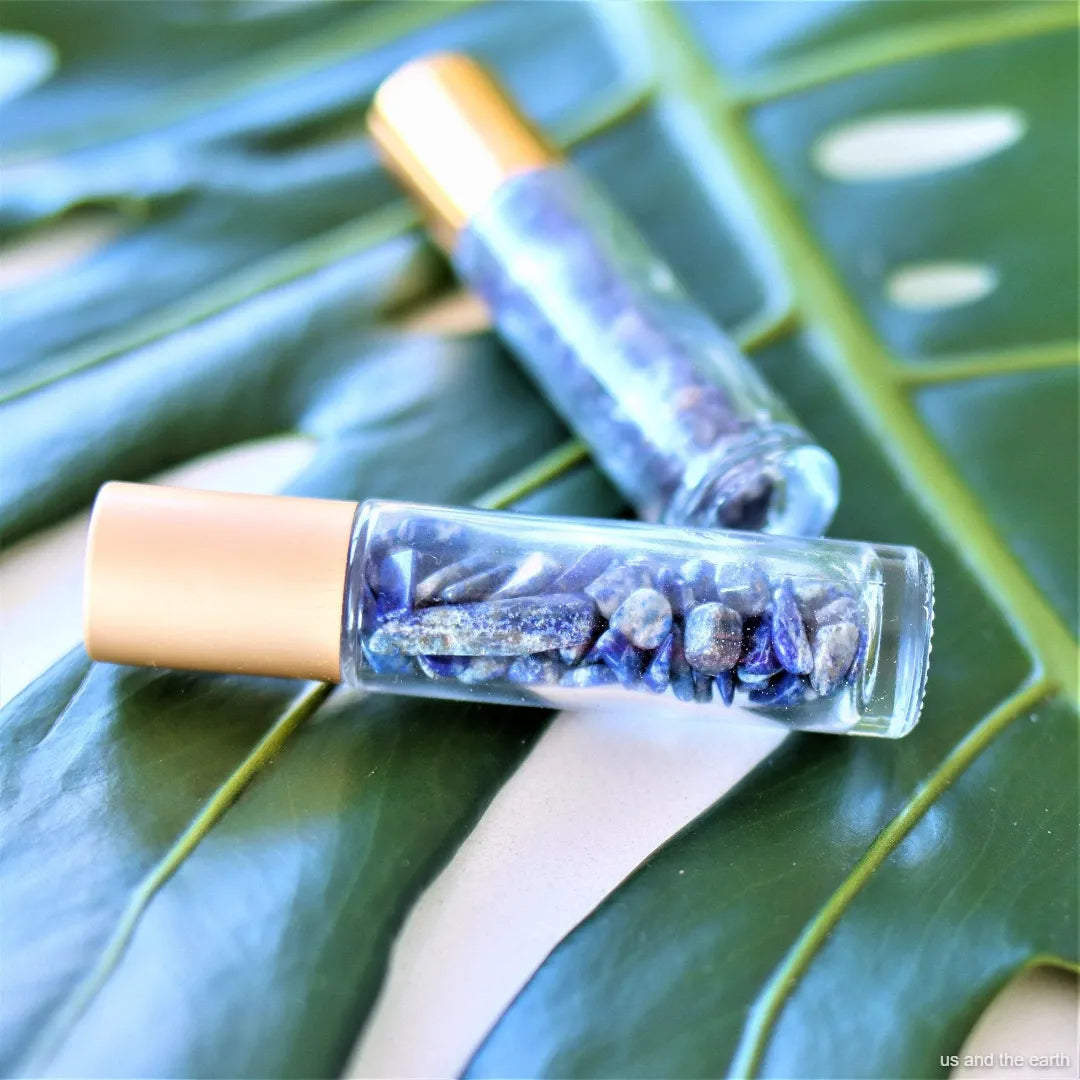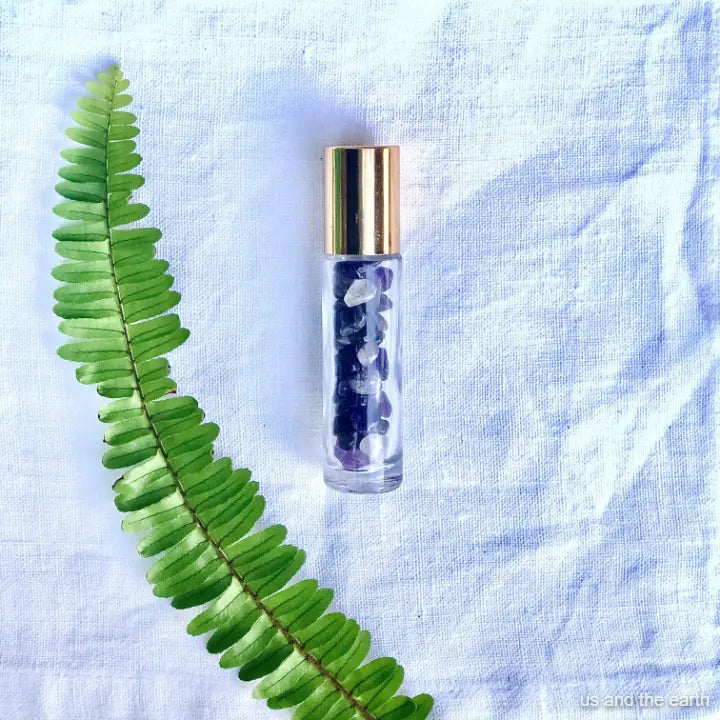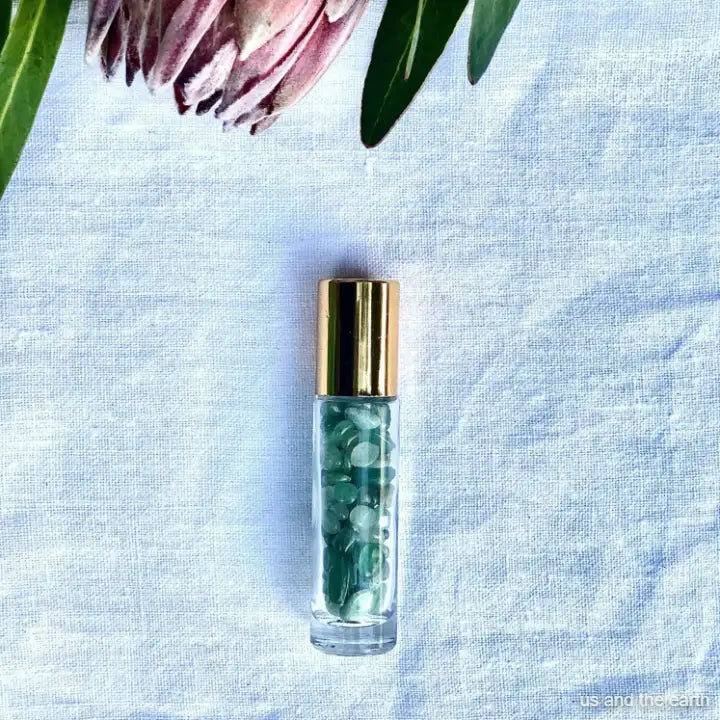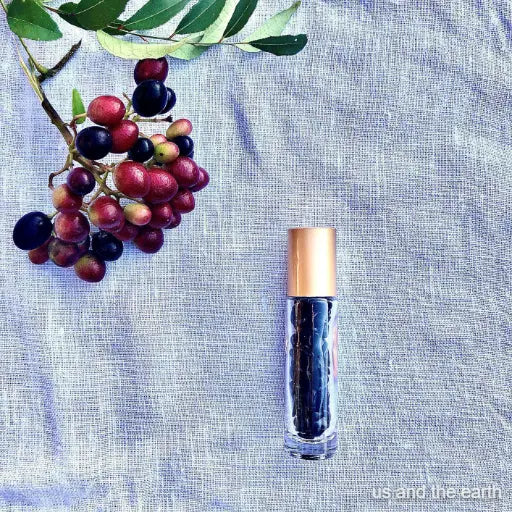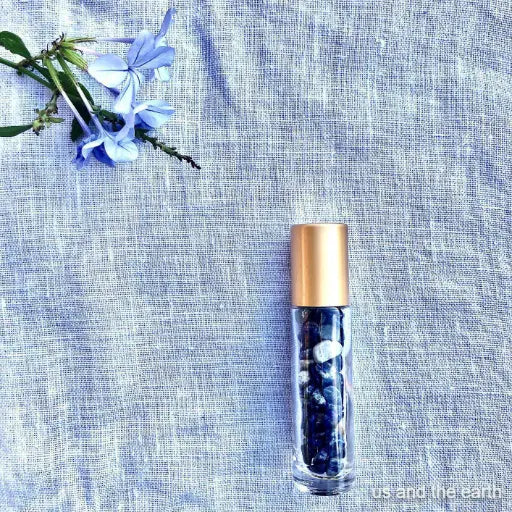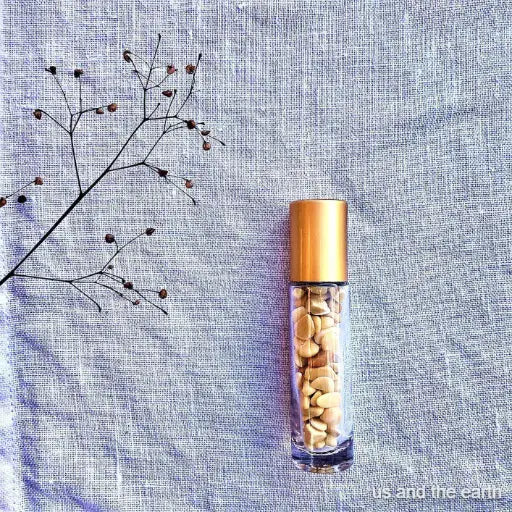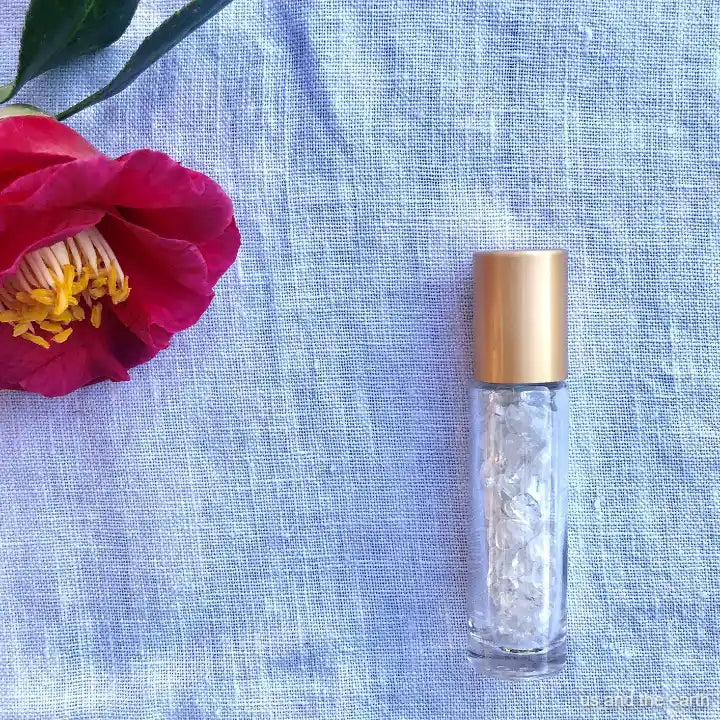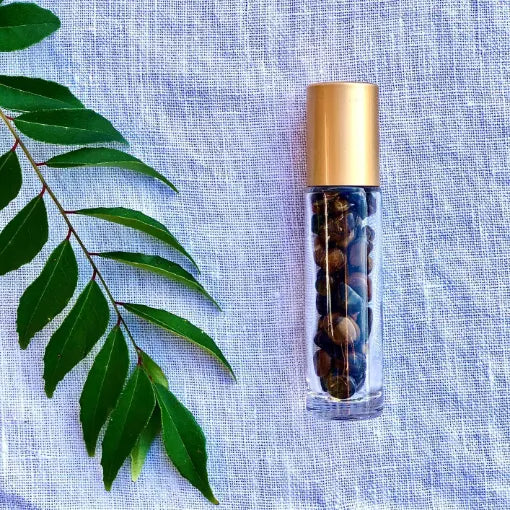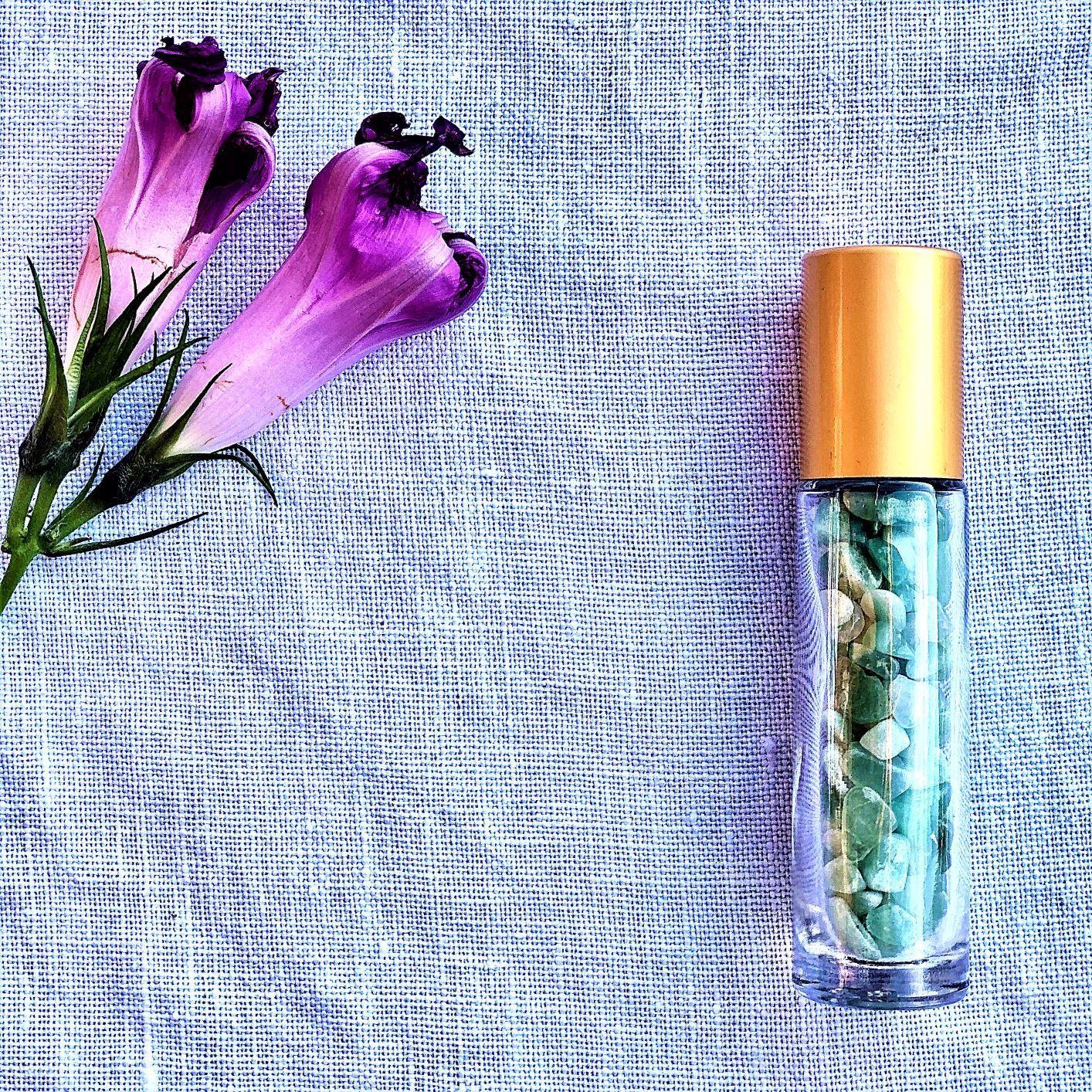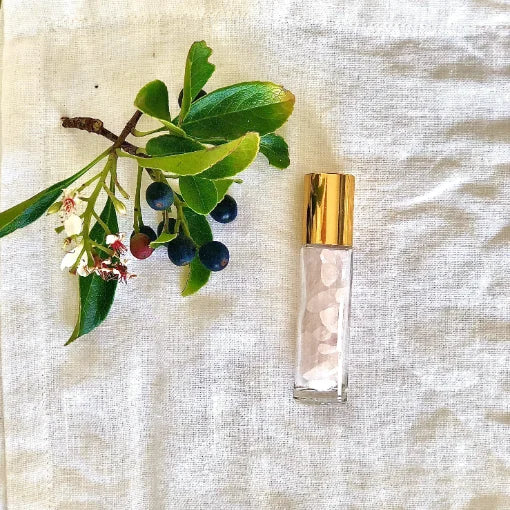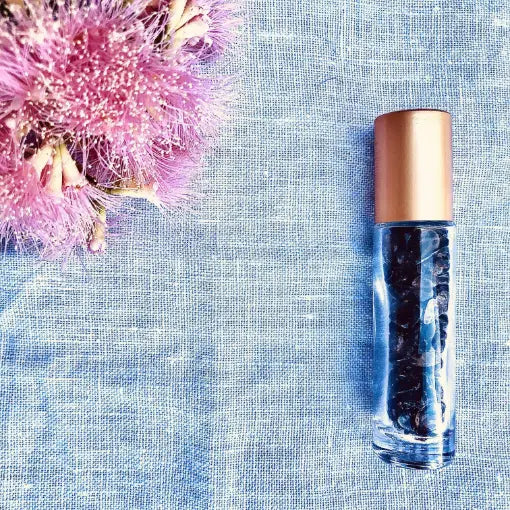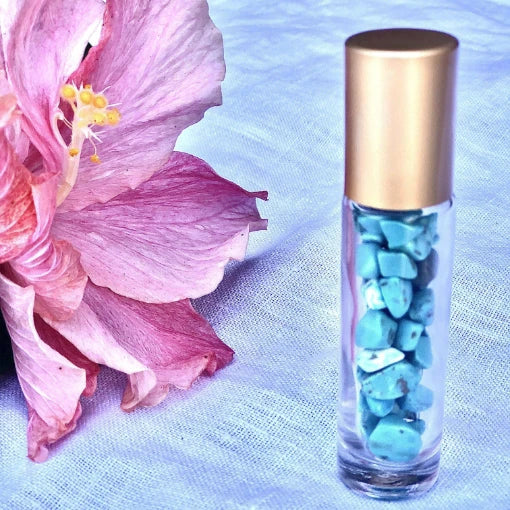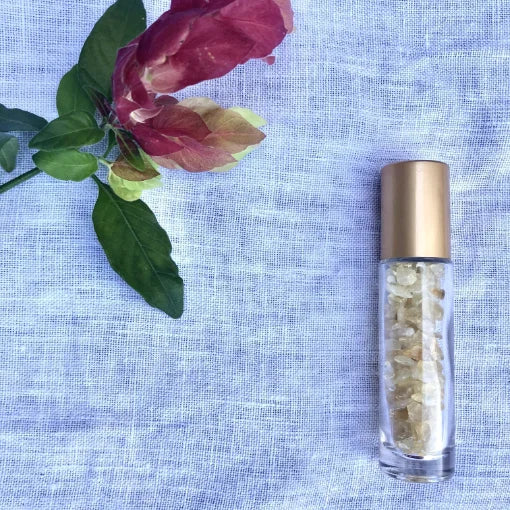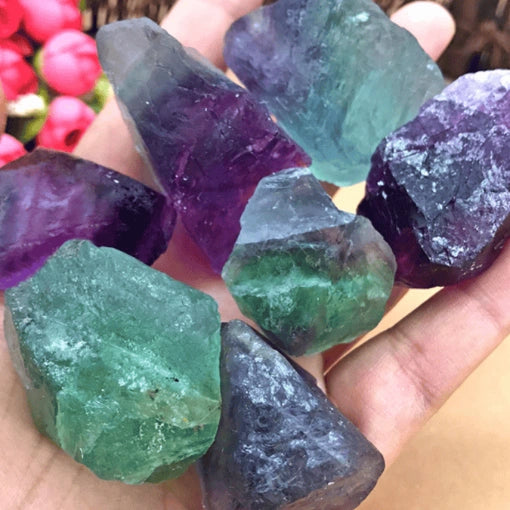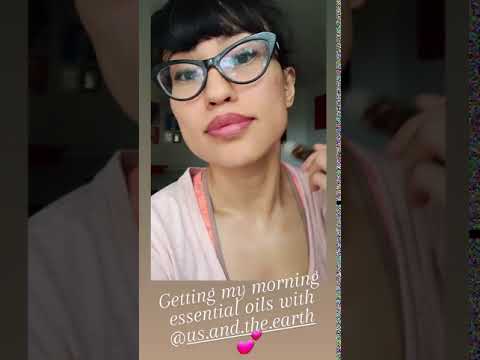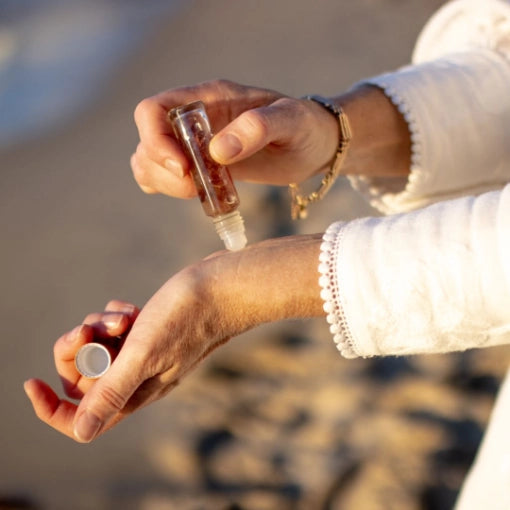 Us and the Earth
Essential Oil Crystal Gemstone Roller Bottle
⭐️⭐️⭐️⭐️⭐️
"Very happy with product & support. Quality of product met expectation. As a gift friends are going to love the gemstone rollers. Support was fabulous & responding so quickly to a further follow-up. It made online ordering more personable & I was grateful for the assistance. "
-Marlene
⭐️⭐️⭐️⭐️⭐️
"So happy with my purchase. The crystal-filled rollers are absolutely beautiful and made perfect Christmas gifts. Liz was amazing. She provided great customer service and I received my order within a couple of days. I will definitely be ordering again. Thank you so much"
-Esther