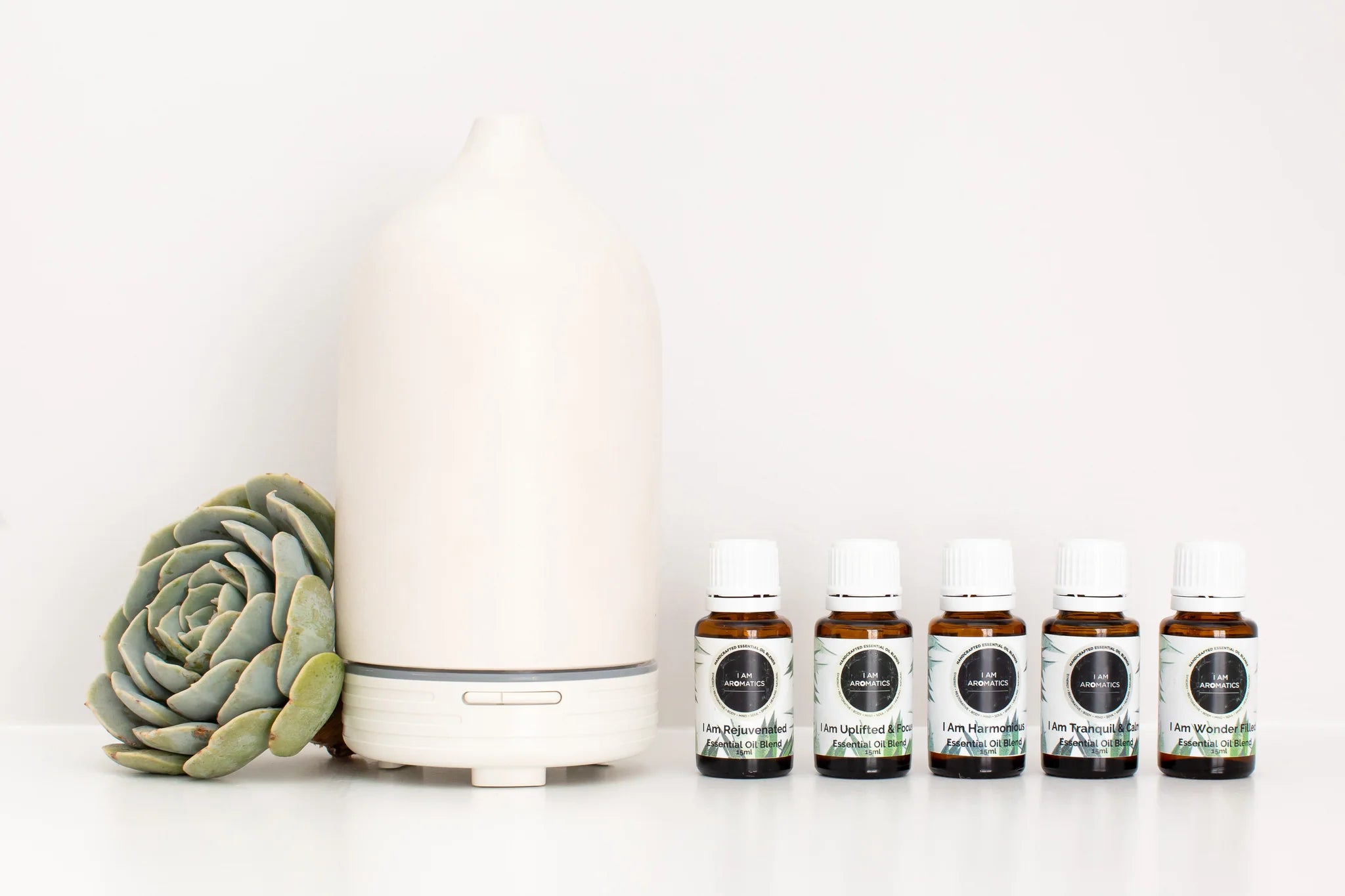 Chat with Master Formulator of 'I Am Aromatics'

This week I had the pleasure of interviewing Melissa Gale, the incredibly talented Aromatherapist and Formulator of 'I Am Aromatics'. I am a staunch supporter of all things from nature and the more we can make healthier swaps and choose non-toxic products the stronger our personal health, our family's health & the health of our planet will be.
There are some lovely Australian essential oils available.
Q: what inspired you to become an aromatherapist & what exactly does an aromatherapist do?
I studied clinical aromatherapy during my learning to become a remedial massage therapist. As a teenager and young adult I had fallen in love with essential oils, frankincense and geranium were my absolute favourites. After 15 years as a massage therapist & clinical aromatherapist I transferred my knowledge and passion into a product-based and service-based business to continue to facilitate healing without being hands on.
As an aromatherapist working with clients or businesses individually, I take a case history of their health, mental & emotional state, skin type / condition If blending skincare, the desired outcome, likes and dislikes of essential oils and blend a remedy according to their needs. I then select essential oils for their properties - physical, emotional and sometimes spiritual benefits. Be it skincare or an aromatherapy product to use in a diffuser, roller blend/natural perfume, inhaler, bath or mist.
Q: What are the biggest chemicals and toxic products in the home and how can these be replaced with gentler options?
When we start to delve into the world of toxins within the home, it can become completely overwhelming. From mould to EMF's, chemicals laden in our carpets, furniture & cleaning products.  I always encourage clients and customers when starting to begin switching out the chemicals within our body products first. Changing to natural soaps, creams, make up & perfumes & avoiding chemicals such as: Sodium laureth sulfate (SLS/SLES), synthetic fragrances, mineral oil, Parabens, Phenoxyethanol. PEG & Phthalates (just to name a few).
When choosing a natural perfume, it is always advisable to make sure there are no essential oil contraindications to yourself or the smaller or furry people in your home. I Am Aromatics has created Natural Perfume rollers and Essential mists that can be used individually or layered together to bring a natural scent as well as their therapeutic uses.
Q: How important is self-care in our modern, super busy, hyper-stimulating world?
Learning to deeply care for ourselves I believe is something that is an ongoing journey. It moves beyond just the physical and emotional into something deeply profound, where we learn to value and love ourselves unconditionally, moving towards forgiveness and acceptance. Again, I encourage beginning slowly, step by step, starting with the physical and avoiding toxins eating clean, resting & nourishing ourselves as we truly deserve.
We are living in a time of deep change and uncertainty where old systems are breaking down and the overuse of social media and fast mainstream news can be completely overwhelming and often triggering.  The world feels full-on, often confusing and can feel at times negative. When we care and heal ourselves, we vibrate at a higher frequency, thus adding healing and positive energy to ourselves, those around us, the wider community & universe.
Q: are essential oils safe for all of the family including our furry friends?
As an aromatherapist trained in a more conservative or French style of aromatherapy I tend to err more on the side of caution when it comes to advising on essential oil usage. All my formulated products are transparent in their ingredients listing with concise cautions when necessary. I have an extensive list on my website when it comes to babies, children, and pregnancy.
Our furry friends would also fit into this category. Dogs and cats that are puppies or kittens, elderly, have sensitive skin such as rashes or dermatitis or are unwell are more sensitive to essential oils (also candles, fragrances etc). Avoiding diffusing oils in closed spaces or small rooms is advisable, as is opening windows or doors. Oils that are strong are often used in natural animal products such as peppermint, lemongrass, tea tree etc. If they are a wash off product, they are usually fine (expect for the more vulnerable pets as mentioned above). Oils to avoid completely would be clove, cinnamon, Thyme & Eucalyptus. The rules are very similar for babies as they are for pets.
Q: For a beginner, what are the easiest ways you can get started with essential oils? 
I love witnessing customers or clients fall in love with essential oils, seeing them smell the oil for the first time is special. Start off with safe essential oils, such as Lavender, Mandarin, Lemon, Lime (anything citrus), Ylang Ylang or Frankincense. Our I Am Aromatics range offers most of the popular and safer oils to begin with or replenish supplies, at a fair price and therapeutic grade.  Using them in a diffuser (ceramic stone from Us & Earth being my go-to). Adding them into body creams or oils or safely blending them into a bath or using them as a steam inhalant.
We have about 7 blends in our range. These blends are based and adapted from my time as a clinical aromatherapist. The blends are synergistically balanced and offer therapeutic benefits. Our go-to or most popular blends are 'I Am Tranquil and Calm' for sleep and mild anxiety. 'I Am Harmonious' for mood and hormonal balancing and 'I Am Rejuvenated' for cold and flu symptoms, headaches and general aches and pains. Diffusing oils in a quality machine is advisable as is cleaning your diffuser in between oils or especially stronger blends.
To get in touch with Melissa you can follow her @iamaromatics or view her site - https://iamaromatics.com/