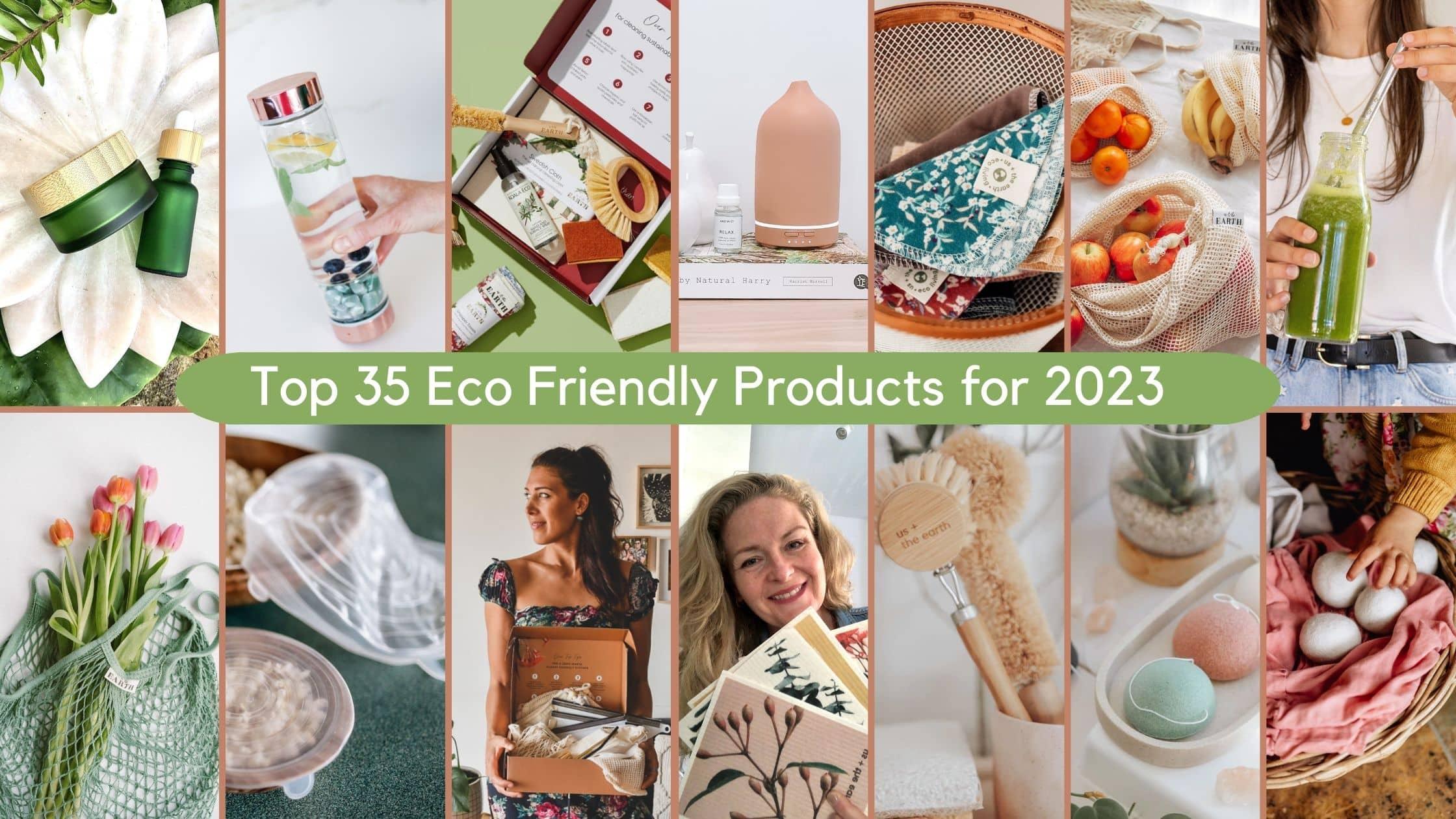 The top 35 Eco friendly products for 2023
It's never been easier to make the switch to eco friendly products in 2023.  
Here are a few compelling reasons why it's worth making those swaps in your life, educating and inspiring others to do the same.
A little bit by a lot of people makes a HUGE difference! 
Reusable and recyclable

items just make sense. 

Cut out toxins

from your home. 

Drastically reduce and eradicate if possible,

BPA containing plastics

. 
Cherish nature.

Our sea, our beautiful country, the air we breathe. 

Plastics are found in every part of the planet

, the deepest seas to the highest month, Arctic to Antarctic.

Plastics aren't biodegradable

and take hundreds of years to decompose.
Click on a link below 👇🏻 to navigate directly to a specific section
Eco Friendly Kitchen
The heart of the home, where we often find the most plastic and the last place it should be! The kitchen is the perfect place to start your eco friendly journey.
1. Reusable Shopping Bags 

2. Vegetable bags

Made from GOTS certified organic cotton, this handy bundle of 6 drawstring bags allows you to choose from solid weave - perfect for grains, rice, flours and legumes or the open weave bags - ideal for fruit and veggies. 3 sizes to choose from.
Perfect for the farmers markets

3. Silicone Stretch Lids

Plastic wrap 'begone forever'! 
Cover your bowls and odd-shaped containers with these strong, stretchy, reusable silicone lids. Easy to store and wash, with 7 sizes for any vessel.
Stretch, reuse, repeat! Bye-bye plastic wrap - get it here

4. Stainless steel straw

Reusable straws in various sizes for sipping your lemon water to gulping those thick smoothies. Easy to clean with the included metal cleaners, this is a 'forever' eco tool to add to your 'kit'. They come in a handy cotton carry pouch.
Get your set to keep in your handbag now 

5. Silicone zip lock bags

School lunches, road trips, office snacks, food storage, fridge, freezer – you name it, these leak-proof silicone food pouches are a really powerful way to displace single use plastic. Frozen to boiling, they are safe for all temperatures and can be used again and again and again.
Never need single use again - all sizes, bundle & save

6. Tea Brewing Bottle 

Tea lovers rejoice! With this high-quality, double-walled, tea brewing bottle you can take your brew on the go and enjoy all of your lovely loose-leaf teas. Pop in the dishwasher to clean. Simple!
Choose between 4 colours, a lovely gift for you or a friend

7. Reusable Drink Bottles

Single use is so old-school now. Reusable is the way to go and with this range you are spoilt for choice.
All sizes, different features like crystals or bamboo. 
Browse our range

8. Glass Coffee Pot

Brew your own coffee with this stylish glass coffee beaker. What better to enjoy your preferred blend, just add to the stainless steel strainer, and watch the magic happen. Stylish for your kitchen or desk and a unique gift for coffee lovers.
A stylish coffee pot for the perfect brew

9. Mega Bundle

Yep, it's mega for a reason! Mega in value and mega in versatility. Enjoy 36 pieces including zip lock pouches, stretchy covers, veggies bags and a cotton shopping bag. Reusable, recyclable and zero-waste, the best eco friendly bundle to get you rocking that sustainable vibe!
Enjoy the savings and give your kitchen an eco overhaul!
Sustainable Laundry
Most laundry detergents and fabric softeners come in plastic bottles, and these bottles contribute to plastic waste in landfill if they aren't properly recycled, which unfortunately is true for a whopping 90% ( Ref: National Geographic )
Additionally, many single-use laundry products such as dryer sheets and laundry pods also contain plastics, which, when combined with the harmful chemicals that abound in the laundry just create a case for immediate change where possible.
Check out these great, toxic-free, all natural alternatives:
 

10. Eco Laundry Box

Stainless steel pegs, wool dryer balls, natural soap berries and natural essential oils. This powerful eco kit makes it easy to create a sustainable and toxic-free laundry.
Create a more environmentally friendly laundry, browse our starter kit

11. Stainless Steel Clothes Pegs

Grade 201 stainless steel pegs last forever so stop wasting money on the plastic version. They come in 4 varying sizes and in bags of 18 or 32. They don't catch on clothes and are super sturdy.
Get your forever pegs!

12. Organic Merino Wool Dryer Balls

So much eco friendly goodness! Reduce static and wrinkle  and save up to 30% on your drying time by popping these organic wool balls in with your clothes. No need for chemical laden and plastic containing dryer sheets. But remember, when you can that sunshine is ALWAYS the best!
So much goodness in a ball of matted wool

13. Soap Berries Laundry Wash

Can a fruit wash my clothes? Yes! Also known as 'soap nuts', they grow on trees in the Himalayas are a 100% natural, organic and chemical-tree alternative to traditional soap. Use to clean your home, wash your dog, your car, your clothes. Your hair? Yes! That too!
True story - my car gets washed with these!

14. Eco Laundry Bundle

An amazing little drawstring bag with 16 stainless steel pegs and 4 felted wool dryer balls, a great head start to saving plastic and electricity with these multi-use, environmentally friendly products.
Get the bundle, it's super cute
Earth Friendly Cleaning
Environmental toxins are everywhere.  We can, however, control what we use in our home.  Many traditional cleaning products contain harsh chemicals that are damaging to both human health and our ecosystem. Eco friendly cleaning products and tools on the other hand, are created from natural, non-toxic ingredients that are kind to the Earth and don't remain in landfill. By making more conscious choices for your sustainable cleaning products, you are caring not only for our planet but for the health of your family.  
 

15. Dishwashing Brush

A biodegradable must-have tool for washing your dishes. Made from bamboo and sisal, an amazing substitute for plastic. Scrub away!

16. Cleaning Brush Set

A lovely boxed set to get all of that cleaning and scrubbing done in the most sustainable way. Just compost when done.

17. Eco Cleaning Box

An award winning box stuffed full of eco friendly goodies, beautifully presented and full of eco sponges, reusable towels, loads of brushes and Koala Eco's all natural surface spray. Have a look!

18. Eco Cleaning Bundle

Just getting started and want to swap out the plastic containing basics? Try this bundle of cleaning goodies, then upgrade to the box. Have a peek.

19.Eco Friendly Un-Paper Towels

'Unpaper you ask?' Yep, these are 100% GOTS certified organic cotton and designed to replace your paper kitchen towel. Easy to wash and simple to use in so many ways. At the table, in the kiddies lunch boxes, in YOUR lunchbox, wiping faces, benchtops drooling dogs mouths. Check them out and get a roll of 8 cute designs

20. Natural Bottle Brush

It's long, it's spiky, it will scrub where your hand can't. Vases, wide topped bottles, jars and give your sink a scrub at the same time. All natural bristle and handle, with a handy hanging string. A must have!

21. Eco Sponge

A super simple, no-brainer kitchen swap is the humble sponge. It could be a scourer, or a softer sponge ( or both!), our range contains NO microplastics and can all be composted at home. Some can even be washed in the washing machine or dishwasher. Yep! 
Want washable sponges? Shop now

22. Sisal Straw Cleaner

Plastic straws are no more. Thank goodness. Now for everything else. In the meantime your stainless steel straws need a scrub. Use these totally recyclable straw cleaners to get the job done. 
Big or small one size cleaner for all!
Eco Friendly Bathroom
Eco-friendly bathroom products, such as safety razors, bamboo toothbrushes, and reusable cotton swabs, are more sustainable alternatives that can help reduce waste and minimise your environmental impact. Using eco friendly bathroom products can also help conserve resources, as many of these products are made from renewable resources and biodegradable. Eco friendly bathroom products are often less expensive in the long run, as they tend to last longer and are more efficient.
23. Eco Dental Floss

Bamboo Charcoal? Cornstarch and mint? We have you covered with our gorgeous glass vial of biodegradable, natural dental floss. No harm to us, no harm to the planet.
Get flossing!

24. 100% Natural Face mask

We absorb everything that we put on our skin, so created from natural and organic as close to nature as possible is the best choice. 
Love your skin

25. Natural Toothpowder

Love your teeth! Natural toothpaste alternatives without the preservatives, synthetics or foaming agents. Each jar prevents 3 toothpaste tubes going to landfill.
Explore the flavours

26. Bamboo tooth brush

Biodegradable bamboo is an obvious choice, when 30 million of the plastic version go into landfill in Australia annually. BPA free, we have a 'mini' version as well for the little eco warriors.
Get matchy-matchy toothbrushes

27. Bamboo toothbrush stand

It's bamboo, has a drainage hole and let's you display the bamboo toothbrush proudly in your bathroom. 
It's super cute, get one here

28. Charcoal teeth whitener

This is a natural whitener without harsh chemicals or bleach. Blended from a base of activated charcoal and bentonite clay. 
Give it a try to polish & eliminate stains

29. Tongue scraper

Mmmm, morning breath. Lots of build up overnight, the best way is to scrape the bacteria and toxins off that tongue! It's an Ayurveda practice, centuries old.
Get my copper tongue scraper

30. Konjac Face Sponge

A soft, all natural, biodegradable facial sponge infused with various natural elements to enhance your sustainable skin-care routine. It's NOT too good to be true.
Have a peep
STARTER KITS AND BOXES
An eco friendly starter kit is a great way to start living more sustainably. These kits are jam-packed full of hand-selected products chosen to really reduce your plastic usage and environmental impact. Full of everyday essentials like reusable bags, straws, reusable food storage, biodegradable toothbrushes and plenty more! 
A conscious and super useful gift for yourself or a loved way, they get you on the right track to enhance what you are already doing or get some new habits started. It's important to just get started! 
31. Kitchen Essentials Kit

Our best-selling, 24 piece box that will immediately replace a tonne of plastic and get your food storage routine rockin' a sustainable vibe! Store, cover, stack, freeze, carry, stash,  shop, transport - it is all contained in this box.
See for yourself

32. Eco Beauty Box

A finalist in the 'Clean +Conscious' Zero-waste beauty category, this gorgeously designed box of goodies will make your beauty routine even more enjoyable knowing you are using products that can be reused and recycled. No more plastic!! 
Upgrade your self care here 

33. Eco Laundry Box

None of us like spending more time in the laundry than we need, and the thought of chemicals and pollutants is horrible. With this mega laundry pack, there are 26 pieces to get your laundry as sustainable as possible and toxic-free at the same time.
Don't believe me? Check it out 

34. Eco Smiles Box

It's all about choosing less harmful products, Well for your oral hygiene this little box will be certain to get you smiling! Toothbrushes, a dental floss pair and loads of other goodies.
Look for yourself 

35. Eco Cleaning Box 

Hands up for easy, toxin-free, sustainable cleaning. This starter kit offers you loads of biodegradable items to make cleaning a breeze. 
By consciously selecting products that are sustainable it fosters our appreciation for nature and the fact that we are all part of a larger ecosystem
Read more about The Hidden Dangers of BPA
Quite simply, our future generations deserve us to make impactful changes. I know it seems a drastic statement but it isn't. I want my daughter to enjoy swimming in a clean sea, to breathe clean air and live in abundant health. 
Now is the time to choose. Change your habits or keep purchasing plastic. Imperfectly but will progress is so much better than inaction!!!